The 104-Storey Treehouse (Paperback)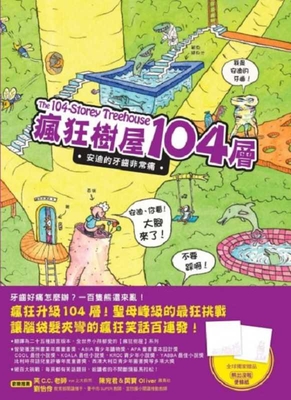 Description
---
New York Times-bestselling team Andy Griffiths and Terry Denton invite readers to come hang out with them in their 104-Story Treehouse--the eighth book in the illustrated chapter book series filled with Andy and Terry's signature slapstick humor

Andy and Terry live in a 104-story treehouse. (It used to be a 91-story treehouse, but they decided it was still missing a few things.) It has a never-ending staircase, a burp bank, a deep-thoughts thinking room, Mount Everest, a mighty fortress reinforced with extra-strong fortress reinforcer, and a money-making machine (that also makes honey ).
When Andy has a toothache that hurts so bad he can't write any jokes for their new book, Terry knows just what to do: buy a Joke Writer 2000(TM) to write the jokes for them All they need first is some money from their money-making machine and then it's off to the store. It's a foolproof plan--a Terry-proof one, even
What could go wrong?
Praise for Andy Griffiths and the Treehouse series:

"Anarchic absurdity at its best. . . . Denton's manic cartooning captures every twist and turn in hilarious detail." --Publishers Weekly, starred review, on The 13-Story Treehouse
"Will appeal to fans of Jeff Kinney and Dav Pilkey. . . . The wonderfully random slapstick humor is tailor-made for reluctant readers. . . . A treat for all." --Booklist on The 13-Story Treehouse
Read the whole series
The 13-Story Treehouse
The 26-Story Treehouse
The 39-Story Treehouse
The 52-Story Treehouse
The 65-Story Treehouse
The 78-Story Treehouse
The 91-Story Treehouse
The 104-Story Treehouse

About the Author
---
New York Times-bestselling author Andy Griffiths, who wrote the Treehouse series, Killer Koalas From Outer Space, The Big Fat Cow That Goes Kapow, The Cat on the Mat Is Flat, and The Day My Butt Went Psycho! is at his best in these wild storytelling adventures, perfect for readers of all ages. Terry Denton has worked with Andy on many books, including the Treehouse series and Killer Koalas From Outer Space. He lives in Australia with his wife and three kids.