Down and Out in Paris and London (Paperback)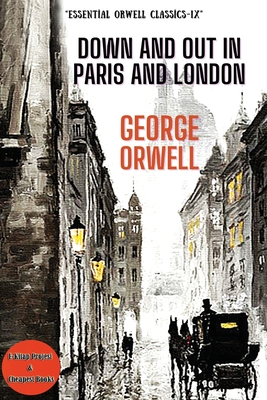 $12.99
Email or call for price.
Description
---
Down and Out in Paris and London is the first full-length work by the English author George Orwell, published in 1933. It is a memoir in two parts on the theme of poverty in the two cities, which was written deliberately in a non-academic tone. Its target audience was the middle and upper class members of society-those who were more likely to be well educated-and exposes the poverty existing in two prosperous cities: Paris and London. The first part is an account of living in near-destitution in Paris and the experience of casual labour in restaurant kitchens. The second part is a travelogue of life on the road in and around London from the tramp's perspective, with descriptions of the types of hostel accommodation available and some of the characters to be found living on the margins.
Book Summary:
After giving up his post as a policeman in Burma to become a writer, Orwell moved to rooms in Portobello Road, London at the end of 1927 when he was 24. While contributing to various journals, he undertook investigative tramping expeditions in and around London, collecting material for use in "The Spike", his first published essay, and for the latter half of Down and Out in Paris and London. In spring of 1928 he moved to Paris and lived at 6 Rue du Pot de Fer in the Latin Quarter, a bohemian quarter with a cosmopolitan flavour. American writers like Ernest Hemingway and F. Scott Fitzgerald had lived in the same area. Following the Russian Revolution, there was a large Russian emigre community in Paris. Orwell's aunt Nellie Limouzin also lived in Paris and gave him social and, when necessary, financial support. He led an active social life, worked on his novels and had several articles published in avant-garde journals.