The Science of Why, Volume 4: Answers to Questions About Science Facts, Fables, and Phenomena (The Science of Why series #4) (Hardcover)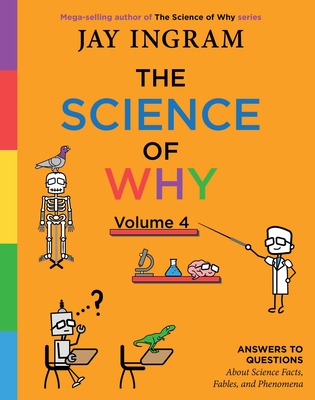 Email or call for price.
Special Order - Subject to Availability Please Call
Other Books in Series
This is book number 4 in the The Science of Why series series.
Description
---
Back by popular demand: a brand-new volume of science queries, quirks, and quandaries in the mega-bestselling Science of Why series, sure to enlighten and entertain readers of all ages.

Have you ever wondered why we close our eyes when we sneeze? Or how far underground things can live? Or if there's a way to choose the fastest lineup at the grocery store?

Yes? Then fasten your seat belts! Bestselling author Jay Ingram is here to take you on a rollercoaster ride through science's most perplexing puzzles. From the age-old mysteries that have fascinated us to the pressing unknowns about our future and all the everyday wonderings in-between, Jay answers questions that confound and dumbfound, such as:

Why do zebras have stripes?
How many universes might there be?
Can we live for 200 years?

...along with everything you ever wanted to know about alien civilizations, photographic memories, nanobots, poop, and (conveniently) toilet paper.

Bursting with laugh-out-loud illustrations, jaw-dropping marvels, and head-scratching science fictions, The Science of Why, Volume 4 will give readers of all stripes a real thrill.
About the Author
---
Jay Ingram was the host of Discovery Channel Canada's Daily Planet for sixteen years, and before that hosted CBC Radio's national science show Quirks & Quarks. He has written eighteen books, including the five volumes in the mega-bestselling Science of Why series. His dog, Robbie, is very cute and sometimes annoying. Visit Jay at JayIngram.ca. Follow him on Twitter @JayIngram.