Bluets (Hardcover)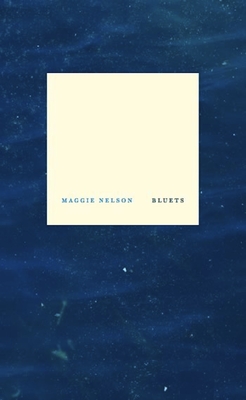 $20.00
Email or call for price.
Description
---
Since 2009, when it first published, to today, Bluets has drawn scores of readers with its surprising insights into the emotional depths that make us most human--via 240 short pieces, at once lyrical and philosophical, on the color blue. This beautiful hardcover edition celebrates Maggie Nelson's uncompromising vision, inviting longtime fans and newcomers alike to experience and share in an indispensable work that continues to disrupt the literary landscape.
About the Author
---
Maggie Nelson is the author of nine books of poetry and prose, many of which have become cult classics defying categorization. She first published Bluets with Wave Books in 2009; in 2015, Bookforum named Bluets one of the top 10 best books of the past 20 years. Her other nonfiction titles include the National Book Critics Circle Award winner The Argonauts (2015), The Art of Cruelty: A Reckoning (2011; a New York Times Notable Book of the Year), The Red Parts: Autobiography of a Trial (2007), and Women, the New York School, and Other True Abstractions (2007). Her poetry titles include Something Bright, Then Holes (2007), and Jane: A Murder (2005). She writes frequently on art, and in 2016 was awarded a MacArthur genius Fellowship. She currently lives in Los Angeles.