Robotics: Discover the Science and Technology of the Future with 20 Projects (Build It Yourself) (Hardcover)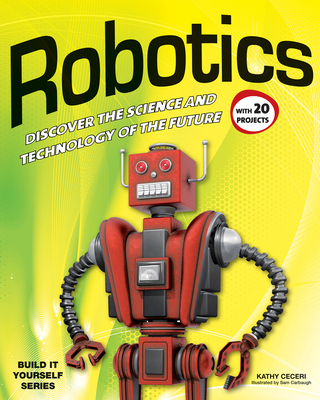 $21.95
Email or call for price.
Description
---
Once, robots were only found in science fiction books and movies. Today, robots are everywhere They assemble massive cars and tiny computer chips. They help doctors do delicate surgery. They vacuum our houses and mow our lawns. Robot toys play with us, follow our commands, and respond to our moods. We even send robots to explore the depths of the ocean and the expanse of space. In Robotics, children ages 9 and up learn how robots affect both the future and the present. Hands-on activities make learning both fun and lasting.
About the Author
---
Kathy Ceceri is About.com's Homeschooling Expert and a fan of art mixed with science. Her books include Robotics: Discover the Science and Technology of the Future, named "Best of the Best" by the Chicago Public Library, and Geek Mom: Projects, Tips, and Adventures for Moms and Their 21st-Century Families. She lives in Upstate New York. Sam Carbaugh is a freelance cartoonist and illustrator. He has worked with many colleges and companies to create informational comics and illustrations. He enjoys working for Nomad Press and likes to think of all the cool things kids are learning with the books he has helped illustrate. He lives in Grand Rapids, MI
Praise For…
---
"I am very much impressed with this book. It is imaginative and, despite being written for children, not at all 'dumbed down.' Full of interesting information presented in ways that are certain to stir the imagination of its intended audience, features such as 'Words to know,' 'Make your own,' and 'Fascinating Facts' all add to the effectiveness of the presentation."  —Al Dien, Professor of Chinese, Emeritus, Stanford University, presenter, Along the Silk Road, interactive workshop for middle school teachers

"If you've got a child who is a robot fanatic, you must grab a copy of this book. Over a dozen hands-on projects and easy-to-understand technical explanations are going to make it a hit with teachers and parents and a must-have for kids." —James Floyd Kelly, author, LEGO MINDSTORMS NXT-G Programming Guide

"Kathy Ceceri has packed this readable book with tons of information to inspire kids to pursue robots. The activities are creative and will prepare kids to build robots. For children too young to program computers and do soldering, this is the book to whet their appetite for robotics." —Ed Sobey, PhD, author, The Way Toys Work and Unscrewed, cofounder of Kids Invent!

"These exciting, bite-sized science experiments will catapult young readers into the world of robotics." —Daniel H. Wilson, PhD., author of Robopocalypse

"Light in tone but dense with information, this guide should appeal to those who already have a strong interest in the topic and are ready for a hands-on challenge." —Publishers Weekly (July 9, 2012)