The Dangerous Book of Dinosaurs: Are You Ready to Come Face-To-Face with a T-Rex? (Paperback)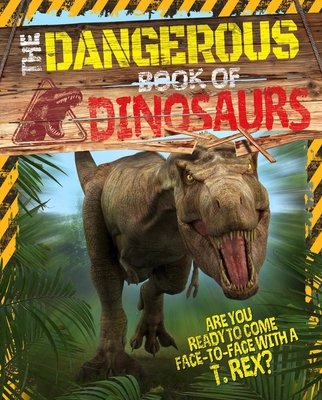 $12.99
Email or call for price.
Description
---
Learn about the most ferocious dinosaurs that terrorized the skies and seas of the prehistoric world
From the vicious T-Rex to the ginormous Brachiosaurus, this book explores some of the most incredible and dangerous dinosaurs that ever existed. Bursting with fantastic facts, punchy statistics and eye-catching images,
The Dangerous Book of Dinosaurs
highlights each species' natural defenses and hunting strategies which helped them to survive and thrive.
Also includes:
- The story of the dinosaurs, from early evolution to their extinction
- Vital stats for each species, including its family, size, weight and diet
- "Versus" boxes which compare dinosaurs' vital stats to modern animals and machines
- New breakthrough research about dinosaurs and how these facts were discovered Perfect for dino-mad children aged 7+.
About the Author
---
Liz Miles is a published author and editor of books for children and teens, with over 50 published titles. Popular non-fiction publications include Species, Lost and Found; Dolphins, Grizzly Bears, Frogs and Reindeer (Wild World series); and Louis Pasteur (Great Scientists series). Her editorial credits include Journey Through Africa, which was highly commended by the Royal Geographical Society.