Reading & Writing with English Learners: A Framework for K-5: A Framework for K- (Paperback)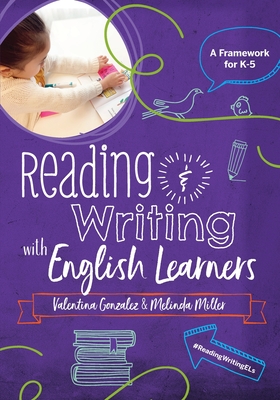 Description
---
Reading & Writing with English Learners offers kindergarten through fifth grade reading and writing educators a user-friendly guide and framework for supporting English learners in balanced literacy classrooms. Authors Valentina Gonzalez and Melinda Miller lead readers in exploring the components of Reading & Writing with English Learners with a special eye for increasing the effectiveness of instructional methods and quality of instruction to serve English learners.
The book you hold in your hands shares practical and effective techniques for accommodating reading and writing instruction
to design learning that simultaneously increases literacy and language development.
Reading & Writing with English Learners was written for:
- K-5 Classroom Teachers
- ESL Teachers
- Reading and Writing Instructional Coaches
- District Leaders
Reading & Writing with English Learners includes:
- the components of Reading & Writing Workshop
- accommodations that support English Learners
- high yield practices for Reading & Writing Workshop during remote teaching
- the role of phonics
- a culturally inclusive booklist
- activities that support Reading & Writing Workshop
And more