Prodependence: Moving Beyond Codependency (MP3 CD)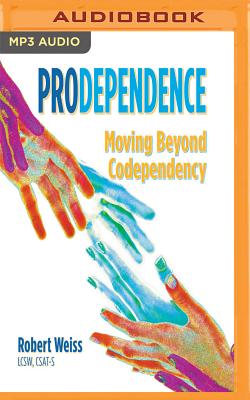 $14.99
Email or call for price.
Description
---
Human beings are meant to work together, not to go it alone. We enter the world reliant on others for shelter, nutrition, and emotional support, and these core requirements to do not change as we grow older. Yet somehow, as we move into adulthood, our intrinsic need for emotional connection (i.e., love) gets discounted. This despite the fact that people who spend their lives "apart from" rather than "a part of" do not function as well as those who feel emotionally connected.
Nowhere is this more apparent than when dealing with addiction. Nevertheless, loved ones of addicts, instead of being encouraged to care for themselves as well as their addicted loved one, are often encouraged to care for themselves instead of their addicted loved one.
Prodependence, a new psychological term created by Robert Weiss to describe healthy interdependence in the modern world, turns this around. Rather that preaching detachment and distance over continued bonding and assistance, as so many therapists, self-help books, and 12-step groups currently do, prodependence celebrates the human need for and pursuit of intimate connection, viewing this as a positive force for change. Simply stated, prodependence occurs when attachment relationships are mutually beneficial - with one person's strengths filling in the weak points of the other, and vice versa. And this can occur even when an addiction is present.
In Prodependence, Weiss presents a research-based social and psychological understanding of human interdependence, accepting and even celebrating human interdependency in ways that are healthy and life-affirming for each person. This groundbreaking work presents a new paradigm for useful and healthy support, offering both the lay person and professional an evolved prism through which he or she can examine, evaluate, and improve not just relationships affected by addiction (though that's the primary focus of this audiobook), but relationships in general.