My First Book of Airplanes: All About Flying Machines for Kids (Paperback)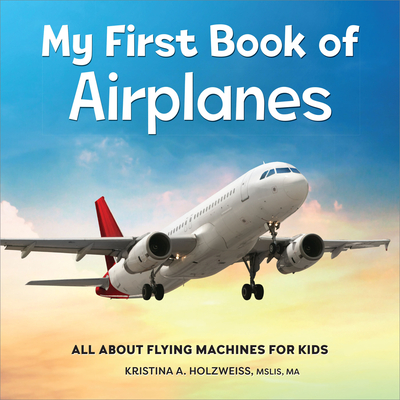 Description
---
It's time for takeoff! Get curious kids excited about amazing airplanes with this colorful book for ages 3-5

From the Wright brothers and Amelia Earhart, to the latest Mars mission, people have always been fascinated by flying. This airplane book for kids 3-5 comes from the same series as the beloved My First Book of Planets, teaching them all about what makes airplanes work!

All kinds of aircraft—Read together as you explore gliders, passenger planes, military aviation, jumbo jets, and more.

Awesome images—Get up close to the coolest crafts with the big, colorful pictures and illustrations.

How does it fly?—Find kid-friendly language that explains the forces at work when airplanes go, like gravity, thrust, drag, and lift.

Soar into incredible facts about flight with this age-appropriate kids' book about airplanes.
About the Author
---
KRISTINA A. HOLZWEISS, MSLIS, MA, is the 2015 School Library Journal School Librarian of the Year, a National School Board "20 to Watch" emerging education technology leader in 2016–2017, and a 2018 Library Journal Mover & Shaker.