Kid Activists: True Tales of Childhood from Champions of Change (Kid Legends #6) (Hardcover)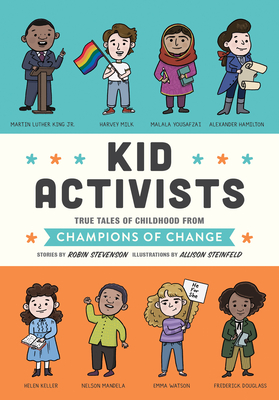 $13.99

Usually Ships in 1-5 Days
Other Books in Series
This is book number 6 in the Kid Legends series.
Description
---
Moving, relatable, and totally true childhood biographies of Martin Luther King Jr., Susan B. Anthony, Helen Keller, Malala Yousafzai, and 12 other inspiring activists.
 
Every activist started out as a kid—and in some cases they were kids when their activism began! But even the world's greatest champions of civil liberties had relatable interests and problems--often in the middle of extraordinary circumstances. Martin Luther King, Jr. loved fashion, and argued with his dad about whether or not dancing was a sin. Harvey Milk had a passion for listening to opera music in different languages. Dolores Huerta was once wrongly accused of plagiarizing in school.  

Kid Activists tells these childhood stories and more through kid-friendly texts and full-color cartoon illustrations on nearly every page. The diverse and inclusive group encompasses Susan B. Anthony, James Baldwin, Ruby Bridges, Frederick Douglass, Alexander Hamilton, Dolores Huerta, Helen Keller, Martin Luther King Jr., Nelson Mandela, Iqbal Masih, Harvey Milk, Janet Mock, Rosa Parks, Autumn Peltier, Emma Watson, and Malala Yousafzai.
About the Author
---
Robin Stevenson is an award-winning author of thirty books for kids and teens. Her writing has been translated into a number of languages and published in more than a dozen countries. She lives with her family on the west coast of Canada.

Allison Steinfeld obtained a BFA from the School of Visual Arts in New York City. She loves to create fun and playful work that can be enjoyed by readers of all ages. She lives in Atlanta, Georgia.
Praise For…
---
"Equally charming and informative."—Booklist

"[The activists'] stories offer inspiration as well as memorable moments. A broadly diverse roster of role models."—Kirkus Reviews

"The vivid details of each activist's story, combined with vibrant illustrations, demonstrate that every civil rights hero and popular firebrand started out as children, just like the rest of us."—School Library Journal

"Engaging and empowering."—YAYOMG.com

"Kids will be drawn in."—Chicago Parent

"In accessible but never patronizing prose, [Stevenson] sketches the stories of her subjects' childhoods, deftly setting the scene for each one and providing informative details, engaging quotes, and sometimes humorous anecdotes."—Mombian

"With comic-like illustrations by Allison Steinfeld, kids will be drawn in by the short chapters and stories of history-changing grownups who were once children, too."—Metro Parent

"Illustrate[s] a wide variety of early influences and backgrounds, proving to kids that where they come from isn't important when fixing something that is."—Terri Schlichenmeyer, Bookworm Sez

"An engrossing page-turner that will leave readers of all ages feeling inspired and empowered!"—Word Spelunking
 
Praise for the Kid Legends series:
"Just like history class, only hilarious."—Tim Federle, author of Better Nate Than Ever, on Kid Presidents by David Stabler
 
"Outstanding... Inspiring and entertaining."—Booklist, starred review, on Kid Athletes by David Stabler

"With cartoonish illustrations that will attract fans of Jeff Kinney's The Diary of a Wimpy Kid and Rachel Renée Russell's The Dork Diaries, this informative offering leaves no presidential childhood rock unturned."—School Library Journal, on Kid Presidents by David Stabler
 
"I can think of no better way to convey to children that their heroes were once just like them."—Fredericksburg Free-Lance Star, on Kid Scientists by David Stabler

"Impressively diverse."—Booklist, on Kid Artists by David Stabler
 
"A heartening reminder that 17 unconventional greats—not to mention all the rest—started out as children too."—Kirkus Reviews, on Kid Artists by David Stabler
 
"Filled with cute illustrations. . . [and] mini-biographies that are interesting, funny, and, most importantly, relevant to kids today."—Geek Dad, on Kid Scientists by David Stabler