The Reindeer Girl (Winter Journeys) (Paperback)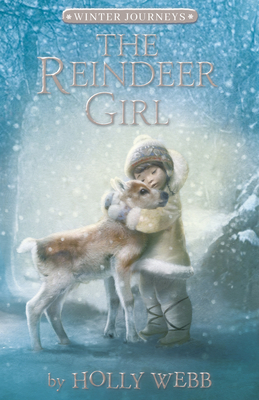 Description
---
Lotta loves to hear Great-grandmother Erika tell stories of her childhood, herding reindeer in the snowy north of Norway. Lotta dreams of having such adventures, too. Little does she know that her wish is about to come true. The 2nd installment in the Winter Journeys chapter book series from best-selling author, Holly Webb.

One night, just before Christmas, Lotta wakes up to find herself in the world of her great-grandmother's stories. As a member of a herding family, she has her very own reindeer and calf to take care of. Will Lotta be able to keep them safe in the face of danger in the Arctic winter? And how will she get back home?

Includes additional educational and reference material at the end of the book regarding reindeer and life in Norway.
About the Author
---
Holly Webb started out as a children's book editor and wrote her first series for the publisher she worked for. She has been writing ever since, with over one hundred books to her name. Holly lives in Berkshire, with her husband and three children. Holly's pet cats are always nosing around when she is trying to type on her laptop.

Simon Mendez was born in York, England and has loved to draw for as long as he can remember. He took a General Art and Design course at York Technical College and then studied Scientific and Natural History Illustration at Fylde College in Blackpool. He now paints many different subjects but mainly concentrates on portraits and animal subjects. Simon spends his time away from the easel reading, watching movies, and walking in the countryside.