Once I Was You -- Adapted for Young Readers: Finding My Voice and Passing the Mic (Hardcover)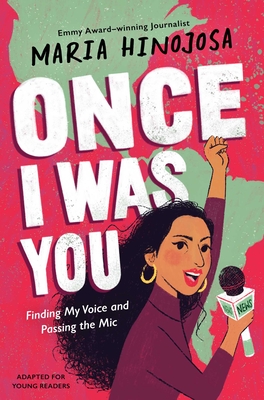 $18.99

Usually Ships in 1-5 Days
Description
---
"When Maria speaks, I'm ready to listen and learn." —Lin-Manuel Miranda

Emmy Award– and Pulitzer Prize–winning journalist Maria Hinojosa has created a brand-new, unique version of her adult memoir, which was an NPR Best Book of 2020, for young readers, blending her story with perspectives on history in the vein of Jason Reynolds's Stamped.

"There is no such thing as an illegal human being."

Maria Hinojosa is an Emmy Award–winning journalist, a bestselling author, and was the first Latina to found a national independent nonprofit newsroom in the United States. But before all that, she was a girl with big hair and even bigger dreams. Born in Mexico and raised in the vibrant neighborhood of Hyde Park, Chicago, Maria was always looking for ways to better understand the world around her—and where she fit into it.

Here, she combines stories from her life, beginning with her family's harrowing experience of immigration, with truths about the United States's long and complicated relationship with the people who cross its borders, by choice or by force. Funny, frank, and thought-provoking, Maria's voice is one you will want to listen to again and again.
About the Author
---
Maria Hinojosa's nearly thirty-year career as a journalist includes reporting for PBS, CBS, WGBH, WNBC, CNN, NPR, and anchoring and executive producing the Peabody Award–winning show Latino USA, the longest running national Latinx news program in the country, distributed by PRX. She is a frequent guest on MSNBC, and has won several awards, including a Pulitzer Prize, four Emmys, the Studs Terkel Community Media Award, two Robert F. Kennedy Awards, the Edward R. Murrow Award from the Overseas Press Club, and the Ruben Salazar Lifetime Achievement Award. Her seven-part podcast series Suave won the Pulitzer Prize for Audio Reporting in 2022. She has also been inducted into the Society of Professional Journalists and the American Academy of Arts and Sciences. In 2010 she founded Futuro Media, an independent nonprofit newsroom and production company with the mission of producing multimedia content from a POC perspective. Through the breadth of her work and as the founding coanchor of the political podcast In the Thick, Hinojosa has informed millions about the changing cultural and political landscape in America and abroad. She lives with her family in Harlem in New York City.