Nero: A Captivating Guide to the Last Emperor of the Julio-Claudian Dynasty and How He Ruled the Roman Empire (Hardcover)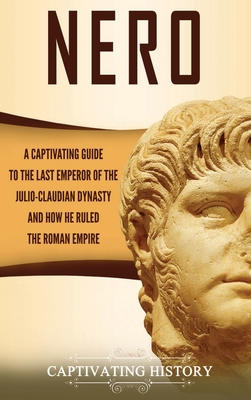 $29.99

Usually Ships in 1-5 Days
Description
---
If you want to discover the captivating life of Nero, then keep reading...
Nero's extravagance has become nothing short of legendary. In its day, it was incredibly destructive to his people, particularly after the Great Fire of Rome, a fire that he may have even started. Instead of assisting the ten districts that had been damaged by the fire, Nero took advantage of the extra space to build himself a golden palace. He murdered, among others, his own mother, his ex-wife, and his stepbrother. He was additionally a rapist, a child molester, and a brutal abuser.
But he was also an artist; at least, he believed himself to be one, and he had wanted to be one ever since he was a child. But an unlucky roll of the dice of fate ripped him from his aunt's comfortable home and dumped him in the Roman palace, and eventually, he was thrown onto the Roman throne in 54 CE. The next fourteen years would be some of the worst in Roman history, showcasing the very worst of humanity.
Because the truth is that Nero thought he was an artist. But history reveals that he was little more than a monster.
In Nero: A Captivating Guide to the Last Emperor of the Julio-Claudian Dynasty and How He Ruled the Roman Empire, you will discover topics such as
The First Emperors
Exile
Agrippina Pulls the Strings
Matricide
Right off the Rails
Rome Ablaze
Regret
The Last Killing
And much, much more
So if you want to learn more about Nero, scroll up and click the "add to cart" button