Stability: How an ancient monastic practice can restore our relationships, churches, and communities (Paperback)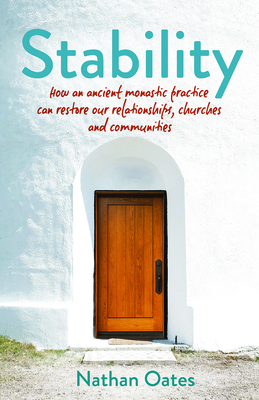 $17.99

Usually Ships in 1-5 Days
Description
---
What is the foundation of work that lasts? 

As Christians in a hypermobile culture, most of the time we talk about going and doing, about the need for meaningful action, service, and pilgrimage.

Here, we listen to a quieter call. We consider the foundation, the roots, the bass note, that place of origin from which the building rises and the fruit blooms and the music soars and all the action comes—the place of stability. This call is rooted in the being of God; the faithfulness, reliability, and unchanging character of God. 

Drawing from some of the best writings on Benedictine spirituality and from his personal experiences raising a family, pastoring a church, and spending time living with monks, Nathan Oates offers a compelling invitation to find inner peace and stillness right where we are. 

When faced with decisions to stay or go, we rarely consider a beautiful, challenging third option—embracing the value of stability, which is moving closer to the root. Rather than pulling up our tents or simply enduring, we can choose to press deeper into the core of the question, to lean into the source of life, the real need, the true passion.
About the Author
---
Nathan Oates writes, speaks, and serves as lead pastor of Emmaus Church Community, which he started with a few friends in 2004. For more than a decade, he has been captivated by the Rule of St. Benedict, focusing on how the Benedictine vow of stability can restore the North American church. Nathan holds a masters degree in spiritual formation from Wheaton College. He lives in Northern California with his wife Carmen, his three kids, and a dog named True. Visit Nathan at nathanoates.com and emmaus.church.
Praise For…
---
"I do not hesitate to encourage Oblates, Associates, and all those who find wisdom in the Rule of Benedict to delve into this fine study. Of all aspects of our oblation / monastic profession, stability might be the most confusing for Americans to meaningfully apply to their lives. Yet St. Benedict considered stability to be essential and foundational to our spiritual transformation. Nathan Oates does a fine job of unpacking the richness to be discovered when we commit to stability in our lives." —Laura Swan, OSB, of St. Placid Priory and author of numerous books including The Benedictine Tradition

"Nathan Oates is a brilliant student and practitioner, a souled-sage who mines the depths of Christian history and tradition bringing new worth to our times. This book is a treasure, and anyone who submits to the wisdom inside will rise healthier and holier." —Rev. Dr. David McDonald, Founder, Fossores Chapter House, Pastor, Westwinds Church, Jackson, MI
 
"Nathan Oates is a modern prophet who has written a refreshing and important book. He does more than offer a critique of modern culture. Indeed, drawing upon the Bible and visions of St. Benedict, Oates shows us ways to reject toxic consumerism and replace it with a life-giving work of restoration." —Rev. Dr. Lyle Dorsett, Billy Graham Professor of Evangelism (ret) at Beeson Divinity School, Birmingham, AL
 
"Nathan Oates leads the reader on his journey toward the transformational and upending realization that as whole-bodied creatures our formation often occurs through what is happening around us AND that staying put in those realities is God's regular work of growth toward Christ. In a culture of constant change, this book offers the true and refreshing water that stability, rootedness, loyalty to place, and endurance is key to our humanity in Jesus." —Rev. Jay Thomas, Lead Pastor of the Chapel Hill Bible Church
 
"In times of chaos, we all long for peace. But longing for peace is not the answer. Our greatest need is to know and encounter the One who brings meaning to the messes of our lives. In Nathan Oates' book, Stability, Nathan writes with a heart of a pastor, the love of a missionary and a spiritual formation heartbeat that is often sorely lacking in our world. Understanding both stability and movement are key to authentic spiritual life and Nathan takes us on a stimulating journey that incorporates modern living, ancient monasteries and the mosaic of contemporary life. Read this book and hear the call to Stability." —Dr. John Jackson, President of William Jessup University and author of books on personal and cultural transformation
 
"Through the story of his discovery of and immersion in the practice of Stability, Nathan Oates thoughtfully addresses consumerism in the American church. Rather than spend pages critiquing patterns of church-hopping and the culture that created it, Nathan digs deep into both ancient and contemporary monastic disciplines, their historical benefits, and methods for committing to community and place. This is much-needed perspective gives readers a glimpse into how ancient practices can be implemented in their communities today. As Christian sentimentalism and consumerism fail to appeal to many Millennial and Gen Z churchgoers, Stability offers them an authentic and proven alternative in restoring Shalom with God and community." —Kevin Marshall, Entrepreneur, FinTech Executive, Co-founder of Clear Capital
 
"Twenty years a Religious and on the cusp of my seventh assignment, I discovered in Nathan's book a fresh lens through which I can consider the role of stability for a vowed life consecrated to God and marked by missionary zeal. Nathan's work has helped me understand that for those of us whose tradition does not include a vow of stability, the stability of the heart is vital. This book is a practical guide that shows us what stability 'looks like' and 'sounds like' in the life of a missionary and how to embrace the 'stability' that teaches one how to move." —Sr. Maximilian Marie Garretson, O.P.  Dominican Sisters of Mary, Mother of the Eucharist, Ann Arbor, MI

"Tucked away in Lincoln, California is a brilliant, wise, prophetic leader who sees differently, speaks authentically, and shepherds humbly. He has the gift of bringing the ancient to life today. He is one of my most valued guides. As someone who has been at the same place for 35 years, I've experienced the challenges and benefits of staying…on our ministry, on my family, on my growth. I highly urge your consideration of this amazing text that will challenge you to be fully present and fully invested where you are…for the long haul." —Dr. Rob Ribbe, Executive Director, HoneyRock, Outdoor Center for Leadership Development and Assistant Professor, School of Mission, Ministry and Leadership at Wheaton College, Wheaton, IL
 
"So much of what we hope and pray for isn't impossible, but depends on people and communities that have established roots of love and can bear fruit in due season. I'm so grateful for a pastor like Nathan Oates who sees the practice of stability as essential not only for his own well being, but for the life of beloved communities that can be good news for the world." —Jonathan Wilson-Hartgrove, author of The Wisdom of Stability
 
"I am both challenged and comforted by Nathan's new book. He offers us an in-depth exploration of the meaning and application of two facets of everyday life – stability and movement using the Rule of St. Benedict and his own life as the vehicle. The exploration is like rotating a diamond and viewing the beautiful facets of one awesome reality – the paradoxical interplay of stability and movement (properly understood and embraced) central to the nature of the Kingdom of God in our everyday life. The treatment of this elegant reality is not just another theoretical presentation but one that offers, an invitation, promise, and mandate from the Lord to the reader to be transformed into the likeness of Christ and serve as light and leaven to a world in desperate need for illumination and transformation it offers." —Fr. Tom Brindley, Spiritual Director, Upward Call Ministries