Creepy, Crawly Tattoo Bugs: 60 Temporary Tattoos That Teach (Paperback)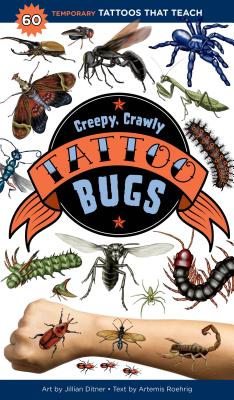 $7.99

Usually Ships in 1-5 Days
Description
---
Kids who are crazy for bugs will love sporting insect tattoos! Creepy, Crawly Tattoo Bugs features 60 frighteningly realistic temporary tattoos, from the Cobalt Blue Tarantula to the Deathstalker Scorpion, Flesh Fly, Hickory Horned Devil, and the Two-Spotted Assassin Bug, along with cool facts about each critter. Easy to apply with a damp cloth, these tattoos promise lots of frightening fun — and learning — for bug lovers!

Also available in the Tattoos That Teach series: Fluttery, Friendly Tattoo Butterflies and Other Insects;Super, Strong Tattoo Sharks; and Roaring, Rumbling Tattoo Dinosaurs.
About the Author
---
Artemis Roehrig is a children's book coauthor and wrote the text for Super, Strong Tattoo Sharks, Roaring Rumbling Tattoo Dinosaurs, Creepy, Crawly Tattoo Bugs, and Fluttery, Friendly Tattoo Butterflies and Other Insects. She grew up in western Massachusetts and spent summers on Cape Cod where she worked at the Wellfleet Bay Wildlife Sanctuary. After graduating from Skidmore College, she received her master's degree from the organismic & evolutionary biology program at the University of Massachusetts. She continues to research invasive insects in the Elkinton Lab.
Jillian Ditner combines her knowledge of science and passion for visual communication in her work as a graphic designer and scientific illustrator. She earned a graduate degree in science illustration from California State University — Monterey Bay, where she honed her observational skills and pursued interests in naturalist subjects. Ditner lives in Ithaca, New York, and works at the Cornell Lab of Ornithology as a graphics editor.