City of Shattered Light (Paperback)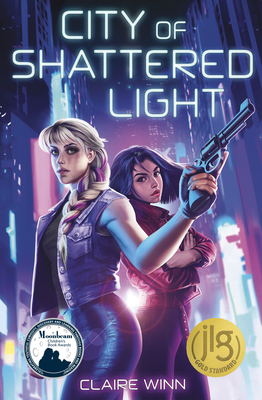 $11.99

Usually Ships in 1-5 Days
Description
---
As darkness closes in on the city of shattered light, an heiress and an outlaw must decide whether to fend for themselves or fight for each other.
As heiress to a powerful tech empire, seventeen-year-old Asa Almeida strives to prove she's more than her manipulative father's shadow. But when he uploads her rebellious sister's mind to an experimental brain, Asa will do anything to save her sister from reprogramming--including fleeing her predetermined future with her sister's digitized mind in tow. With a bounty on her head and a rogue AI hunting her, Asa's getaway ship crash-lands in the worst possible place: the neon-drenched outlaw paradise, Requiem.
Gunslinging smuggler Riven Hawthorne is determined to claw her way up Requiem's underworld hierarchy. A runaway rich girl is exactly the bounty Riven needs--until a nasty computer virus spreads in Asa's wake, causing a citywide blackout and tech quarantine. To get the payout for Asa and save Requiem from the monster in its circuits, Riven must team up with her captive.
Riven breaks skulls the way Asa breaks circuits, but their opponent is unlike anything they've ever seen. The AI exploits the girls' darkest memories and deepest secrets, threatening to shatter the fragile alliance they're both depending on. As one of Requiem's 154-hour nights grows darker, the girls must decide whether to fend for themselves or fight for each other before Riven's city and Asa's sister are snuffed out forever.