How to Code 2.0: Pushing Your Skills Further with Python: Learn how to code with Python in 10 Easy Lessons (Super Skills) (Hardcover)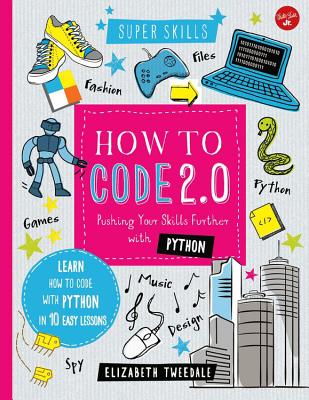 $14.95
Email or call for price.
Description
---
Coding is more important of an investment than ever, and How to Code 2.0 makes learning the programming language Python easy by breaking it down into 10 super skills.

Just about everything in modern life is affected by technology in one form or another, and do you know what makes that technology work? Computer code! Learning how to code is more important than ever, and now is your chance to learn the programming language Python in 10 easy steps.

How to Code 2.0 a follow-up to Walter Foster Jr's How to Code, and recaps the skills covered in book one before pushing young coder's skills to the next level with a selection of fun, hands-on coding projects. By breaking Python down into ten "super skills," this straightforward guide to coding makes learning an entirely new language approachable and easy for any budding young coder.

Knowing the basics of computer coding is already a near requirement in the modern job market. You can only imagine how important it will be 10, or even 20 years from now. How to Code 2.0 is a tech-savvy book that gives kids a major head start on the competition.
About the Author
---
Elizabeth Tweedale is the founder of Cypher, a company dedicated to teaching computer science in new and exciting ways to children during holiday camps. She is the co-author of the Kids Get Coding series (Wayland) and was the co-founder of Blueshift Coding.