Journey: Based on the True Story of OR7, the Most Famous Wolf in the West (Paperback)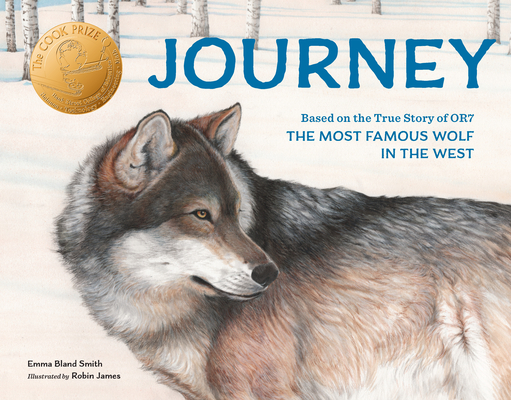 $10.99
Email or call for price.
Description
---
"Captivating and heartwarming…Animal lovers will howl with joy."
—Red Tricycle

This beautiful picture book follows the journey of a young gray wolf who garnered nationwide attention when he became the first wild wolf in California in almost a century.

Using facts recorded by Fish & Wildlife scientists, author Emma Bland Smith imagines the wolf's experiences in close detail as he makes an epic 2,000-mile trek over three years time. The wolf's story is interwoven with the perspective of a young girl who follows his trek through the media. As she learns more about wolves and their relationships with humans, she becomes determined to find a way to keep him safe by making him a wolf that is too famous to harm.

"A young girl follows the wolf's journey and, along the way, learns about issues around the re-introduction of wolves. It's an opportunity to engage young readers beyond the story."
—Herald Net
About the Author
---
Emma Bland Smith is a librarian and writer living with her family in San Francisco. This is her first book for children. She has written a nonfiction book for adults, San Francisco's Glen Park and Diamond Heights (Arcadia), has contributed to Sunset and other magazines, and writes for the family website Red Tricycle.


Robin James has illustrated more than 85 books, including all of the titles of the much-loved Serendipity series. A native of the Pacific Northwest, she lives with her husband in Arlington, WA. Learn more about her at RobinJames.net.
Praise For…
---
Winner of the 2017 Cook Prize for best picture book teaching STEM principles to third and fourth graders

Finalist for the Washington State Book Award

"This accessible and engaging picture book is an empowering account of a conservation success story."
—Booklist

"James' realistic, finely detailed paintings glory in every hair of the wolves' fur...environmental good news invitingly presented."
—Kirkus Reviews

"The book aims to raise awareness about wolves, and a feeling of connection with their survival."
—Kirkus Reviews

"This is a fabulous book to help open up discussions with kids about conservation and wildlife."
—Outnumbered 3 to 1
 
"[Teaches] that it's possible even for kids to make a difference."
—Motherhood Moment

"Captivating and heartwarming…Animal lovers will howl with joy."
—Red Tricycle

 "[A] marvelous story of determination, self-actualization, empathy, and sheer resolve in nature's ability to survive."
—Kid Lit Reviews

"[Journey] has enormous power."
—Librarian in Cute Shoes

"An extraordinary trek."
—Librarian's Quest

"Suggestions for further reading, maps, timelines and other resources are icing on this picture-book cake." 
—Seattle's Child

"[A] compelling story."
—Washington Parent

"A must read for all."
—Psychology Today

"[An] inspirational and moving work of art."
—Huffington Post

"Absolutely beautiful."
—Picture Books Help Kids Soar

"[Will] inspire kids to keep reading and…to learn more about the natural world around them."
—Lu & Bean Read

"Young readers can follow the historic trek of a famous wild gray wolf."
—Alaska Airlines Magazine

"A beautiful picture book."
—A Novel Idea

"In sharing the book with groups of readers, Smith said she is struck by how they react once they 'make the connection that Journey is real.'"
—Publishers Weekly

"A young girl follows the wolf's journey and, along the way, learns about issues around the re-introduction of wolves. It's an opportunity to engage young readers beyond the story."
—Herald Net