Of Salt and Shore (Hardcover)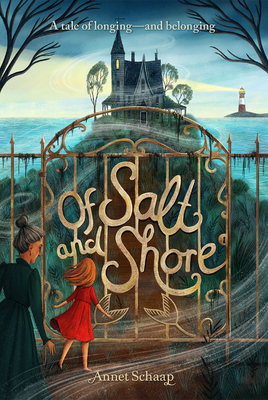 $16.99

Usually Ships in 1-5 Days
Description
---
For fans of The Hazel Wood, this middle grade novel takes the dark stuff of fairytales and crafts it into a powerful story of friendship and light.

"Once I picked the book up, I didn't set it down until I finished it with tears in my eyes. . ." —The New York Times Book Review

Every evening Lampie, the lighthouse keeper's daughter, must light a lantern to warn ships away from the rocks, but one stormy night disaster strikes. The lantern is not lit, a ship is wrecked, and someone must pay.

To work off her debt, Lampie is banished to the Admiral's lonely house, where a monster is rumored to live. The terrors inside the house aren't quite what she thought they would be--they are even stranger. After Lampie saves the life of the neglected, deformed son of the admiral, a boy she calls Fish, they form a close bond. Soon they are pulled into a fairytale adventure swimming with mermaids, pirates, and misfits. Lampie will discover the courage to fight for friendship, knowledge, and the freedom to be different.
About the Author
---
Annet Schaap is one of the Netherland's best-loved illustrators. Her debut novel, Of Salt & Shore, won four prizes, including the best Dutch children's book of the year for 2018.
Praise For…
---
Storms of a different kind brew in "Of Salt and Shore," the debut novel of the Dutch illustrator Annet Schaap, translated by Laura Watkinson. These pages are full of crashing waves, rocky beaches, pirates and mermaids.
     Once I picked the book up, I didn't set it down until I finished it with tears in my eyes, perhaps because it called to mind two beloved books from my own childhood: "The Secret Garden" and "Treasure Island." I was also moved by Schaap's exceptional writing, which manages to be lyrical and whimsical, yet unsentimental. Of the three books, it is the most disturbing, but also the most endearing and poignant.
     The story begins with Lampie helping her drunken, one-legged father keep the flame burning at the lighthouse, until one stormy night when she forgets to buy matches and, in the darkness, a ship wrecks against the rocks. To punish them both, Lampie is sent to earn her keep at the imposing admiral's house. The housekeeper forbids her ever to enter the tower room, where a monster is locked away.
      Lampie strives to do her work, with hopes of being reunited with her father, but curiosity beckons her to the top of the tower.
     There she finds "the monster" hiding under a bed: "It's actually a kind of boy, Lampie sees. A boy with a head that's a bit too big. His face is gray and scaly and his tousled hair looks almost green. … His legs have grown together into a dark tail."
     The boy insists he is deformed; Lampie begins to suspect he is something much more magical and surprising. In some of my favorite scenes, the boy teaches self-doubting Lampie how to read and she helps him to escape his own prison.
     Ultimately, it is a continuation of "The Little Mermaid" by Hans Christian Andersen, but Schaap's story is less about transformation and more about finding friendship and love in our differences.
—The New York Times Book Review


♦ Growing up in a village by the sea, Emilia, daughter of the lighthouse keeper and thus nicknamed Lampie, has heard the rumors about the monster in the Admiral's Black House. Now she's about to experience the Black House firsthand, all because she forgot to get the matches for the lighthouse lamp. As luck would have it, a storm blows in while the lamp is unlit and a ship wrecks on the rocks. Now, to pay off the damages, Lampie must work in the Black House for seven years while her father is locked in the lighthouse for the same period. Once in the mansion, Lampie's curiosity leads her to a locked tower, where she finds not a monster but Edward, the admiral's son, who is a merman. What ensues is a friendship that neither Lampie nor Edward ever expected, but one that rescues them for life. Divided into six sections, with intriguing artwork interludes, Schaap's story of family, friendship, and loyalty is humorous, scary, and filled with goodness. The captivating supporting cast of characters—a mix of realistic, fanciful, and stereotypical—makes for a delightful read. This is the first U.S. edition of Schaap's book, first published in the Netherlands to wide acclaim.
—Booklist, starred review

A young girl uncovers an incredible, terrifying secret inside a forbidding, ominous house perched on the edge of the sea. Ever since Lampie's mother died, lighthouse keeper Augustus has drunk himself into debt and hurls his anger at Lampie. When a ship is wrecked, father and daughter are blamed for carelessly running out of matches to light the lamp. Augustus is imprisoned in his lighthouse, and illiterate Lampie must be a servant for seven years in the sinister Black House, rumored to harbor a monster. What Lampie discovers in the high tower room is not what she expects, but Lampie is her mother's daughter, with resiliency to survive in the face of relentless cruelty and despair. The story is billed as a sequel to "The Little Mermaid," but the ties to Han Christian Andersen's classic fairy tale are not apparent until well into it. However, elements of The Secret Garden and "Beauty and the Beast" are evident throughout, enticing readers hungry for new yet classic-feeling books. Translated from Dutch, the third-person narration moves seamlessly, transitioning from character to character, drawing parallels, and setting up juxtapositions that further illuminate the characters' motivations and growth. Many of the adults in this book are damaged, mentally and physically, and this affects most cruelly the children in their lives. Characters seem to be assumed white.
Gritty and suspenseful, this atmospheric fairy tale will capture the hearts of sturdy middle-grade readers.
—Kirkus Reviews


With this haunting story, author-illustrator Schaap weaves together elements reminiscent of Andersen's "The Little Mermaid" and Burnett's The Secret Garden to construct a gothic fable. After a shipwreck occurs during a storm, 11-year-old lighthouse keeper's daughter Emilia Waterman, called Lampie, is taken from her father, who is blamed for the wreck. Inhabited by a bare-bones staff serving an absentee admiral, her bleak new cliffside home, the Black House, is reportedly haunted by a monster. Lampie eventually discovers that the "monster" is Edward, the reclusive, abrasive son of the admiral, who has scaly skin and a fish's tail. Over time, she befriends the boy she nicknames Fish, who's determined to learn how to walk on land despite his "deformity." After a visit to a traveling fair reveals clues about Fish's parentage, Lampie and her new friend wind up in an escapade that will change their lives. Formal language and multiple perspectives result in a narrative distance that, while appropriate for a fairy tale, betrays a lack of focus as the story develops. The inclusion of an era-appropriate "freak show," though delicately handled, may still disturb some readers.
—Publishers Weekly


When Lampie and her drunken father's negligence of their lighthouse duties leads to a shipwreck, locals lock her father in the lighthouse and indenture Lampie at the mysterious Black House to work off the cost of the lost ship. Despite the warnings of housekeeper Martha, Lampie dares the house's stinking, ominous tower room to find and eventually befriend the Admiral's secret merman son, a half-feral boy named Edward (Lampie dubs him Fish). With help from Martha's sweet neurodiverse son Lenny, handyman Nick, a traveling sideshow, and last-minute pirates, Lampie helps Fish embrace his merman nature instead of trying to be human to please his exacting, emotionally withholding father. While some emotional resolution is missing for both Lampie and Fish in this Dutch import, the various points of view are highly effective, especially Fish's earliest chapters when he is starving and furious. Watkinson's translation flows easily, balancing momentum and present-tense narration with an almost folksy tone. Schaap's illustrator chops are on display in five full-spread section breaks, where tightly sketched figures move through or contemplate vast, ink-washed landscapes and cavernous spaces. This would pair well with Potter's The Kneebone Boy in its combination of bittersweet whimsy, serious undertones, and gothic mystery delights.
—The Bulletin