The Unexpected Life of Oliver Cromwell Pitts: Being an Absolutely Accurate Autobiographical Account of My Follies, Fortune, and Fate (Paperback)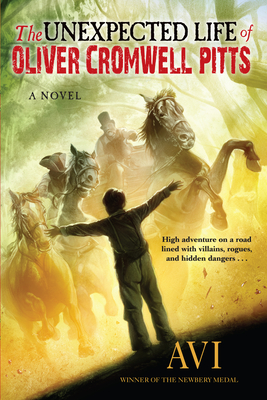 $7.95
Email or call for price.
Description
---
High adventure from a master storyteller about one boy's attempt to fend for himself among cruel orphan masters, corrupt magistrates, and conniving thieves.

In the seaside town of Melcombe Regis, England, 1724, Oliver Cromwell Pitts wakes to find his father missing and his house flooded by a recent storm. He's alone in his ruined home with no money and no food. Oliver's father has left behind a barely legible waterlogged note: he's gone to London, where Oliver's sister, Charity, is in trouble. Exploring damage to the town in the storm's aftermath, Oliver discovers a shipwreck on the beach. Removing anything from a wrecked ship is a hanging offense, but Oliver finds money that could save him, and he can't resist the temptation to take it. When his crime is discovered, Oliver flees, following the trail of his father and sister. The journey is full of thieves, adventurers, and treachery--and London might be the most dangerous place of all.

In the tradition of his Newbery Honor book The True Confessions of Charlotte Doyle, Avi mixes high adventure and short, page-turning chapters with a vivid historical setting featuring a cast of highwaymen, pickpockets, and villainous criminal masterminds.

A Kirkus Reviews Best Book of 2017
About the Author
---
Avi is the author of the Newbery Medal novel Crispin: The Cross of Lead and the Newbery Honor books Nothing But the Truth and The True Confessions of Charlotte Doyle, among many other books for young readers. He lives in Colorado with his wife, an inventor. You can visit him online at www.avi-writer.com.
Praise For…
---
A Kirkus Reviews Best Book of 2017

"An ingeniously plotted Dickensian story filled with suspense, surprises, and ultimately satisfaction. It reminds us, who may have forgotten, why reading is such high entertainment and pleasure."
—Booklist, starred review
 
"Riveting . . . This first in a new series will capture the hearts and minds of readers and history buffs alike . . . Avi's examination of the plight of the desperately poor is worthy of Dickens. Impossible to put down."
—Kirkus Reviews, starred review
 
"Avi's ability to write compelling historical fiction is evident here, and readers will want to stay tuned for the next installment."
—School Library Journal
 
"With dry wit and a strong Dickensian flavor, this first installment in Avi's Oliver Cromwell Pitts saga has an 18th-century British boy finding misfortune everywhere he turns . . . Every cliffhanger-ending chapter will leave readers on the edge of their seats, wondering how Oliver will manage to survive his latest dilemma. Brimming with fast-paced action, evocative settings, and villains, this book reveals yet another side of Avi's talent."
—Publishers Weekly, starred review 
 
"This action-packed Oliver Twist–like tale is carefully orchestrated, with short chapters, cliff hangers, lush descriptions, and historical details neatly woven in throughout . . . An entertaining, old-fashioned, page-turning adventure."
—The Horn Book
 
"Colorful rogues, highwaymen and rotten magistrates populate the Dickensian plot, punctuated with clever cliff-hangers, endless close calls and bits of wisdom. Here a Newbery Medalist again delivers a page-turner, steeped in provocative moral questions."
—San Francisco Chronicle
 
"There's danger at every turn and cliffhangers galore in this un-put-downable Dickens story—a marvelous read."
—San Antonio Express-News
 
"Entertaining . . . Engaging."
—Buffalo News
 
"Full of life and Dickensian details, this is historical fiction at its most compelling."
—Providence Journal
 
"Master-writer Avi has once again crafted a seamless novel of intrigue, suspense, and adventure that will have older kids ripping through ever page of this fast-paced, outstanding novel."
—The Port Huron Times Herald
 
"The titular 12-year-old narrator of Newbury Medalist Avi's book The Unexpected Life of Oliver Cromwell Pitts may be small for his age (which lands him in trouble on more than one occasion), but the plucky lad is no stranger to out-sized exploits. The story, set in 1724 England, is a rip-roaring adventure tale with thieves, kidnappings and some truly awful bad guys — and wonderful chapter titles like, "In Which I Introduce Myself after Which I Immediately Plunge into a Desperate Situation." Avi, one of the great writers for young people working today, blends Pitts' fictional story with historical figures of the age, throwing in plenty of juicy details about England's terrible social history along the way. Young readers will be introduced to injustices of the past while still moving quickly through the pages, thanks, in part, to Avi's short, cliff-hanger chapters."
—The Daily American
 

A Kirkus Reviews Best Book of 2017

"An ingeniously plotted Dickensian story filled with suspense, surprises, and ultimately satisfaction. It reminds us, who may have forgotten, why reading is such high entertainment and pleasure."
—Booklist, starred review
 
"Riveting . . . This first in a new series will capture the hearts and minds of readers and history buffs alike . . . Avi's examination of the plight of the desperately poor is worthy of Dickens. Impossible to put down."
—Kirkus Reviews, starred review
 
"Avi's ability to write compelling historical fiction is evident here, and readers will want to stay tuned for the next installment."
—School Library Journal
 
"With dry wit and a strong Dickensian flavor, this first installment in Avi's Oliver Cromwell Pitts saga has an 18th-century British boy finding misfortune everywhere he turns . . . Every cliffhanger-ending chapter will leave readers on the edge of their seats, wondering how Oliver will manage to survive his latest dilemma. Brimming with fast-paced action, evocative settings, and villains, this book reveals yet another side of Avi's talent."
—Publishers Weekly, starred review 
 
"This action-packed Oliver Twist–like tale is carefully orchestrated, with short chapters, cliff hangers, lush descriptions, and historical details neatly woven in throughout . . . An entertaining, old-fashioned, page-turning adventure."
—The Horn Book
 
"Colorful rogues, highwaymen and rotten magistrates populate the Dickensian plot, punctuated with clever cliff-hangers, endless close calls and bits of wisdom. Here a Newbery Medalist again delivers a page-turner, steeped in provocative moral questions."
—San Francisco Chronicle
 
"There's danger at every turn and cliffhangers galore in this un-put-downable Dickens story—a marvelous read."
—San Antonio Express-News
 
"Entertaining . . . Engaging."
—Buffalo News
 
"Full of life and Dickensian details, this is historical fiction at its most compelling."
—Providence Journal
 
"Master-writer Avi has once again crafted a seamless novel of intrigue, suspense, and adventure that will have older kids ripping through ever page of this fast-paced, outstanding novel."
—The Port Huron Times Herald
 
"The titular 12-year-old narrator of Newbury Medalist Avi's book The Unexpected Life of Oliver Cromwell Pitts may be small for his age (which lands him in trouble on more than one occasion), but the plucky lad is no stranger to out-sized exploits. The story, set in 1724 England, is a rip-roaring adventure tale with thieves, kidnappings and some truly awful bad guys — and wonderful chapter titles like, "In Which I Introduce Myself after Which I Immediately Plunge into a Desperate Situation." Avi, one of the great writers for young people working today, blends Pitts' fictional story with historical figures of the age, throwing in plenty of juicy details about England's terrible social history along the way. Young readers will be introduced to injustices of the past while still moving quickly through the pages, thanks, in part, to Avi's short, cliff-hanger chapters."
—The Daily American