Hit Count (Paperback)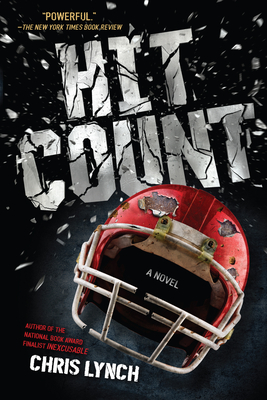 $9.95
Email or call for price.
Description
---
"I hit him so hard, the clash of helmets and pads sounded like a gunshot across the field. I crushed him with the hit, held on to him and crushed him again when I slammed him into the ground . . . I had arrived."

Arlo Brodie loves being at the heart of the action on the football field, getting hit hard and hitting back harder. Arlo's dad cheers him on, but his mother quotes head injury statistics and refuses to watch games. Arlo's girlfriend tries to make him see how dangerously he's playing; when that doesn't work, she calls time out on their relationship.Even Arlo's coaches begin to track his hit count, ready to pull him off the field when he nears the limit. But for Arlo the winning plays, the cheering crowds, and the adrenaline rush are enough to convince him that everything is OK--in spite of the pain, the pounding, the dizziness, and the confusion.

"Powerful." —The New York Times Book Review

"Sharp." —Sports Illustrated

"Heart-pounding." —Washington Independent Review of Books

"A powerful provocative look at the dark side of popular sports and their potential cost." —Publishers Weekly

"This unflinching examination of the price of athletic power with plenty of bone-crunching play-by-play action, is both thought-provoking and formidable." —The Horn Book Magazine
 
A Booklist 2015 Top Ten Sports Books for Youth
A Junior Library Guild Selection
About the Author
---
Chris Lynch is the author of many acclaimed young adult novels, including Little Blue Lies, Pieces, Angry Young Man, the National Book Award Finalist Inexcusable, and the Printz Honor Book Freewill. Chris is on the faculty of the creative writing MFA program at Lesley University in Cambridge, Massachusetts. When he's not teaching or visiting family in Boston, he lives in Scotland.
Praise For…
---
"A powerful story that illuminates both the dangers of head trauma in athletes and the psyche of football players." —The New York Times Book Review

"Head injury debate becomes real life for [a] teen baller. . . action and sharp writing."—Sports Illustrated

"The strength of this hard-hitting novel is how well award-winning author Chris Lynch portrays the drive and hunger of young football players . . . This intense timely story provides incredible insight as to why knowledge of football's potential danger is not enough to keep young players from taking the field." —Kirkus Reviews

"An important work that raises troubling questions about the culture of violence in American high school sports." —School Library Journal

"This unflinching examination of the price of athletic power, with plenty of bone-crunching play-by-play action, is both thought-provoking and formidable." —The Horn Book

"Lynch offers a powerful, provocative look at the dark side of popular sports and their potential cost, using Arlo as a cautionary, even tragic tale. Arlo's rise and fall is handled skillfully, allowing readers into the self-destructive, self-deceiving mindset of an addict without condemning him." —Publishers Weekly

"Fledgling football players should read this of-the-moment young-adult novel." —All You Magazine

"After reading Hit Count by Chris Lynch, I wanted to kiss the head of my STEM-loving 15-year-old son, who likes to watch football but has never been a player. Hit Count is a tough-love YA novel from an award-winning author about the personal stakes involved with high-school football . . . Hit Count takes a much-debated topic and turns it into a heart-pounding, entertaining young adult read." —Washington Independent Review of Books

"Arlo's voice is objective and clear-headed, implying that his addled brain has been set to rights, but it carries the bittersweet memory of real joy in the mayhem he caused and punishment he endured throughout his short-lived career. It's that honesty that will ring true with fans and players, perhaps for that moment just before they toss the book aside with a 'Won't happen to anybody I know.'" —Bulletin of the Center for Children's Books

"Arlo's voice is objective and clear-headed, implying that his addled brain has been set to rights, but it carries the bittersweet memory of real joy in the mayhem he caused and punishment he endured throughout his short-lived career. It's that honesty that will ring true with fans and players, perhaps for that moment just before they toss the book aside with a 'Won't happen to anybody I know.'" —BCCB