True Legend (Compact Disc)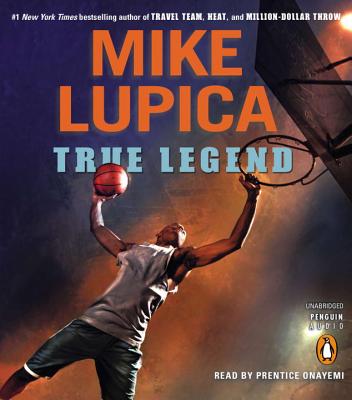 $29.95
Email or call for price.
Description
---
#1 "New York Times" bestseller Mike Lupica makes his return to the basketball court
There's a reason teammates call him "True." Because for basketball phenom Drew Robinson, there is nothing more true than his talent on the court. It's the kind that comes along once in a generation and is loaded with perks--and with problems.
Before long, True buys in to his own hype, much to the chagrin of his mother, who wants to keep her boy's head grounded--and suddenly trouble has a way of finding him. That is, until a washed-up former playground legend steps back onto the court and takes True under his wing.
In this age of street agents promising riches to kids barely out of elementary school and college programs being taken down because of recruiting violations, "True Legend" is a resonant and inspiring novel in the Lupica tradition.
***"The perfect trifecta of deep knowledge and portrayal of the history and culture of basketball, keen insight into the obstacle course of motivations and temptations facing a talented young man, and perfect-pitch sports writing. . . Lupica is the greatest sportswriter for middle-grade readers, and this book, True Legend, is a reminder of his dominance."*** "VOYA," starred review
Lupica scores another winner with this cautionary tale. . . . Loaded with action-packed, suspenseful basketball sequences, crisp dialogue, sharply drawn characters, and keen insight into contemporary basketball culture in America, Drew's story illuminates the realities and choices facing gifted young athletes. "School Library Journal"
"Written in a fluid mix of slightly distantexposition and terse dialogue, the tale features plenty of suspenseful, expertly depicted hoops action alongwith choices both wrong and, ultimately, right made in the face of glittering temptations." "Booklist
About the Author
---
Mike Lupica is the author of multiple bestselling books for young readers, including "QB 1, Heat, Travel Team, Million-Dollar Throw, "and" The Underdogs. "He has carved out a niche as the sporting world s finest storyteller. Mikelives in Connecticut with his wife and their four children. When not writing novels, Mike Lupica writes for New York's "Daily News, " appears on ESPN's "The Sports Reporters "and hosts "The Mike Lupica Show "on ESPN Radio. You can visit Mike Lupica at mikelupicabooks.com"