Fire Officer's Handbook of Tactics (Hardcover)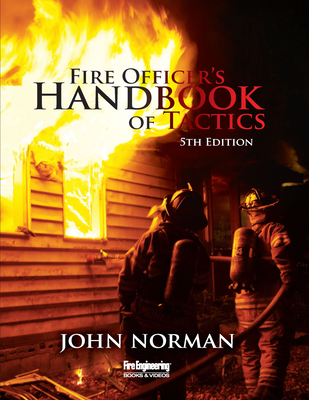 $107.00
Email or call for price.
Description
---
With his fifth edition, Chief John Norman offers lessons learned during his extensive and time-honored career. Chief Norman imparts wisdom and experience by offering advice informed by actual outcomes from the fireground. This guide continues to be invaluable for firefighters aspiring to the officer level and those seeking to promote safety and effectiveness in their organization and the communities they serve by improving their own skills. This fifth edition conveys valuable information gained over the past several years from scientific research relating to the tactics that we use to the changes that have taken place within our communities. Failure to recognize change and adapt to it places a fire department at a great disadvantage and can cost lives and property.
The community changes that most directly affect the fire service today include faster, hotter, and more toxic fires and significantly reduced staffing in many fire departments. These are inescapable facts. Our challenge is to use the knowledge that is at our disposal to select the right tools, technologies, and tactics to safely and successfully adapt to and overcome these challenges.
About the Author
---
Deputy Assistant Chief John Norman is a veteran of more than 35 years in the fire service, with a wide range of experience. He has fought fires in rural, suburban, and urban settings. Since Sept. 11, 2001, Norman has been the Chief of Rescue Operations with the New York Fire Department. Until that date, as a Battalion Chief, he had been assigned to the 16th Battalion in Harlem. In the days after the collapse of the Twin Towers, Norman was designated as the Search and Rescue manager for the World Trade Center site. He operated in that position as a member of the Incident Commanders General Staff for two months before assuming his assignment as the Chief in Charge of the Special Operations Command on a full-time basis. He is the best-selling author of Fire Officer's Handbook of Tactics, Third Edition, also from Fire Engineering Books & Videos.