Tugg and Teeny (I Am a Reader!: Tugg and Teeny) (Paperback)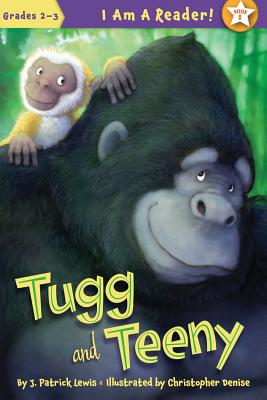 $3.99
Email or call for price.
Description
---
Meet Tugg and Teeny. Best friends since -- well, forever Tugg (a gorilla) and Teeny (a monkey) live together in their jungle neighborhood, Sidekick Thicket. As opposite as night and day, the two friends work and play together, each helping the other face life's challenges. Lively, impulsive Teeny always wants to try new things. Sure and steady Tugg is always there to lend a hand or give a word of encouragement. In this beginning chapter book series, Book One's trio of stories has Teeny learning to become a musician, developing her talents as an artist, and fine-tuning her skills as a poet. Book Two has her pondering strange and quirky situations in the jungle. All with the help of her best friend Tugg. J. Patrick (Pat) Lewis lives in Westerville, Ohio, and is the author of more than 60 books for children. He writes full-time, visits elementary schools, and speaks at literature conferences. His other books with Sleeping Bear are First Dog and First Dog's White House Christmas. Christopher Denise is an award-winning illustrator whose books have appeared on The New York Times bestsellers list. Known for his work on the Redwall picture book series, he also works as a visual development artist and character designer for feature film animation. Christopher lives in Barrington, Rhode Island.