Tall Tall Tree (Paperback)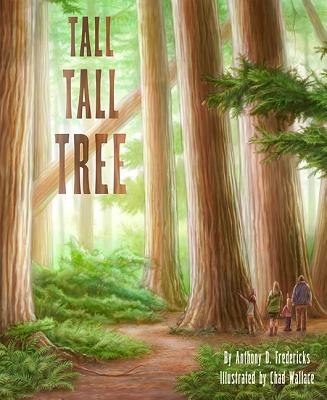 $8.99

Usually Ships in 1-5 Days
Description
---
Tall Tall Tree is a tribute to the last remaining old-growth redwood forests that stand along the northern Californian coast. The perfect forest book for kids, Tall Tall Tree includes accurate scientific information about redwood trees and the habitat they create, making this book important for young readers at home and in the classroom.
Tall Tall Tree is the perfect California book for kids eager to learn about the state and its surrounding environment. With its counting format and rhyming text, this book doubles as a counting book for kids and young readers.
There's a world teeming with life that very few people ever see. Take a peek at some of the animals that make their home in a Tall Tall Tree—a magnificent coast redwood. Count the animals, one through ten—chipmunks chattering, bats roosting, slugs sliding, and many more. Tony Frederick's playful rhyme makes this a book young children will want to look at and listen to again and again, while early readers will enjoy reading it on their own. The turn of every page reveals a unique perspective on the redwood's many moods, illustrated with Chad Wallace's stunning colors. Enriching STEAM activities complement the content. Come discover and explore this wild and magic world!
Parents, teachers, gift givers, and many others will find:
backmatter includes further information about redwood trees and the animals that live there
An explore more section for teachers & parents includes STEAM activities and further learning websites
A book for young readers learning how to count!
About the Author
---
Anthony D. Fredericks is a veteran nature explorer. He grew up on the beaches of southern California and during summers camped (and swatted mosquitoes) in the Sierra Nevada mountains of eastern California. Later he attended high school and college in Arizona where he often spent his free time trekking through the Sonoran desert. Now Tony explores the hillside in south-central Pennsylvania where he and his wife reside and frequently hikes the mountains of western Colorado where his granddaughter lives. A former classroom teacher and reading specialist, he is Professor of Education at York College. As the author of more than 30 children's books (some about "buggy" things) he is a frequent visitor to schools around the country, where he shares the wonders of nature with a new generation of naturalists.