Yankee Doodle Alphabet (Paperback)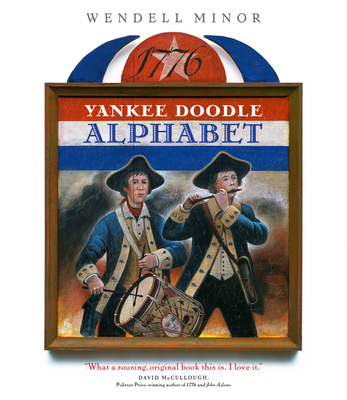 $10.95
Email or call for price.
Description
---
An alphabet book that celebrates the birth of the United States of America. Wendell Minor's bright illustrations and expressive prose introduce young readers to the rich history behind the colonies and Revolutionary Era.
A is for "Acts," the British tax that incited unrest amongst American patriots. Z is for "Zane," the daughter of Patriot Colonel Zane, Elizabeth, who saves the day by delivering more gunpowder for the deprived troops at Fort Henry. In between, Paul Revere, Mohawk Chief Joseph Brant, the Boston Tea Party, and the Liberty Bell, and many more people, places, and events of the young America grace these pages. A chronological timeline at the end puts all the events in order.
Praise For…
---
As the subtitle implies, this alphabet book introduces aspects of America during the Revolutionary War period. A typical entry includes a paragraph or two of text and an illustration. Using the alphabet as an organizing device for presenting information yields scattershot results here. Molly Pitcher and Henry Knox get the same attention as George Washington and Thomas Jefferson, and some statements are overly broad. For example, the explanation accompanying "Q is for Quakers," which reads "Quakers were prosperous farmers who believed in religious freedom . . . ," is problematic, as it excludes Quaker merchants and lawyers as well as Quaker farmers who did not prosper. The most distinctive, memorable aspect of the book is the exceptionally fine artwork. Each letter of the alphabet is illustrated with a painting on a wooden panel that has been shaped to resemble the sign on a colonial inn. The pictures, evidently inspired by period portraits, prints, paintings, and flags, feature warm colors and fine compositions, enhanced by a crackle-glazed finish.--Booklist

In colonial America, the public houses served as the news hubs of their surrounding areas, places where people could gather to share talk of the day, whether it was national or local politics. Using hand-carved replicas of the signs for these inns and taverns to share facts about the American Revolution, Minor, in concert with master woodworker John Reichling, has created an unusual alphabet book. Covering aspects of the Revolution from the Stamp Act to the Old North Church to the X Regiment and Elizabeth Zane, this visually arresting treatment acts as an engrossing introduction to some of the people, places, and events that figured in America's fight for independence. Minor has filled the centers of two distinctive sign-board shapes with beautiful, deep-hued oil paintings. The letter addressed on each page is on the top of the board, with the full title (e.g., Native American: The Mohawk Chief) incorporated into the image. The result is startling, and the shadow cast by the sign gives each picture a sense of depth. The factual material is correct, clearly stated, and intriguing, leading students on to more detailed treatments of the American Revolution. Pair this book with Stuart Murray's American Revolution (DK, 2002) or Lynda Graham-Barber's Doodle Dandy! The Complete Book of Independence Day Words (S & S, 1992), for a riveting visual introduction to the Revolutionary War.--School Library Journal

In his introduction to this inventive look at Revolutionary America, Minor (Reaching for the Moon) explains the importance of public houses-marked by graphically striking wooden signs. Colonists would gather in these small roadside inns and taverns to share news of the patriots' efforts and of the war's progress. Inviting readers to "follow the signs along a colonial road during the years 1765 to 1783," Minor presents an alphabetically arranged series of handsome, period oil paintings on wood, shaped like the public house signs, which spotlight people, events and places pivotal to the creation of the nation. Accompanying the signs, he offers succinct nuggets of information about influential individuals (e.g., Benjamin Franklin, Patrick Henry, Henry Knox, Molly Pitcher, George Washington), key sites (Independence Hall, Old North Church), vital symbols (the Liberty Bell, the Stars and Stripes) and locations of crucial events in the war (Trenton, Valley Forge, Yorktown). Minor cleverly incorporates into his meticulously crafted renderings several relevant references to taverns, noting that Paul Revere and the Sons of Liberty met to plot against George III at the Green Dragon tavern in Boston, Jefferson drafted the Declaration of Independence at Philadelphia's Indian Queen tavern, and Washington delivered his farewell speech to his officers at Fraunces Tavern in New York. Though the volume's A to Z format requires a sequence that is not necessarily chronological, a concise timeline of significant dates sets the contents of this creative compendium in the proper context. All ages.--Publishers Weekly, starred review