The Torchbearers (The Darkdeep) (Hardcover)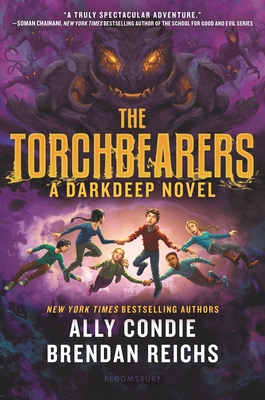 $16.99
Email or call for price.
Description
---
"This book left me breathless!" - R. L. Stine, #1 New York Times bestselling author of Goosebumps and Fear Street, on The Darkdeep

"Everything you could want in a series." - Soman Chainani, New York Times bestselling author of The School for Good and Evil, on The Beast

The blockbuster middle-grade series by New York Times bestselling authors Ally Condie and Brendan continues in this edge-of-your-seat adventure that's Stranger Things meets The Goonies.

After the events of Dark Halloween, the town of Timbers is in a full-blown monster panic, making life for the Torchbearers--Opal, Nico, Tyler, Emma, and Logan--extremely difficult. Nico is investigating the Rift and the strange natural phenomena that continue to occur, all while worrying about his dad's potential work transfer. Opal has her hands full researching the founding Torchbearer, Yvette Dumont, and deciphering clues from another realm sent by the mysterious Thing In a Jar. Emma's wildly popular YouTube show has brought her new-found fame, but also earned her some enemies. Logan is trying to unlock secrets in his own family history that might shed light on how the Torchbearer Order began, while Tyler, as the self-proclaimed Beastmaster, strives to commune with--and not be eaten by--the mercurial and deadly alien sea creature living in Still Cove.

But that's not all. Something cryptic has surfaced from within the Darkdeep. Questions arise, and the five friends find themselves suddenly at odds. The stakes climb even higher when an enigmatic new girl comes to town, with an agenda of her own. As the Torchbearers discover shocking secrets about their houseboat hangout, the Rift, and the Darkdeep itself, signs point to new realms beyond the ones they know, putting their friendships to the test as never before . . .

Told from alternating POVs, this thrilling next book from bestselling duo Ally Condie and Brendan Reichs will once again have readers sleeping with the lights on.
About the Author
---
Ally Condie is the coauthor of the Darkdeep series, as well as the author of the #1 New York Times bestselling Matched trilogy. Her other novels include Summerlost, an Edgar Award finalist for best juvenile mystery, Atlantia, and The Last Voyage of Poe Blythe. A former English teacher, Ally lives with her family outside of Salt Lake City, Utah. She has an MFA from the Vermont College of Fine Arts, and is the founder and director of the nonprofit WriteOut Foundation.
allycondie.com
@AllyCondie

Brendan Reichs is coauthor of the Darkdeep series and the six-volume international bestselling Virals series, as well as author of the instant New York Times bestseller Nemesis and its sequels Genesis and Chrysalis. He is a member of the Executive Board for the YALLFest and YALLWEST literary festivals and has received an MFA in creative writing from the Vermont College of Fine Arts. He lives in Charlotte, North Carolina, with his family and a herd of animals that tear up everything.
brendanreichs.com
@BrendanReichs
Praise For…
---
"Everything you could want in a series." —Soman Chainani, NEW YORK TIMES bestselling author of THE SCHOOL FOR GOOD AND EVIL, on THE BEAST

"A rousing Halloween read." —Kirkus Reviews on THE BEAST

"Praise for The Darkdeep" —:

"This book really left me breathless!" —R.L. Stine, #1 NEW YORK TIMES bestselling author of the Goosebumps series

"Move over, Stranger Things." —Melissa de la Cruz, #1 NEW YORK TIMES bestselling author of the Descendants series

"The most fun I've had while being deeply terrified." —Roshani Chokshi, NEW YORK TIMES bestselling author of ARU SHAH AND THE END OF TIME

"[P]erfect for reluctant readers who appreciate things that go bump in the night." —Publishers Weekly

"I couldn't turn the pages fast enough." —Alexandra Bracken, NEW YORK TIMES bestselling author of THE DARKEST MINDS

"[A]n imaginative and ultimately uplifting narrative." —Booklist

"A delicious, rollicking adventure." —Tahereh Mafi, NEW YORK TIMES bestselling author of FURTHERMORE

"Fast-paced, thrilling, and full of mystery." —Jennifer A. Nielsen, NEW YORK TIMES bestselling author of THE FALSE PRINCE

"This darkly entertaining tale is sure to engage horror fans." —School Library Journal

"Delivering plenty of middle-school shivers." —BCCB