The Fallen Hero (The Dragon Warrior) (Hardcover)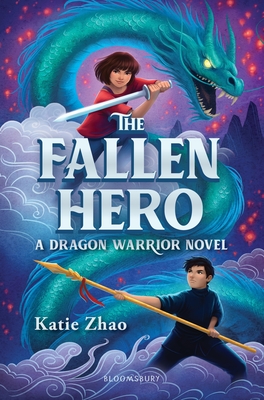 Description
---
This Chinese mythology-inspired middle-grade fantasy series continues as heroine Faryn Liu embarks on a quest to save her brother and defeat the demons--perfect for fans of the Aru Shah and Kiranmala and the Kingdom Beyond books.

Faryn Liu thought she was the Heaven Breaker, a warrior destined to wield the all-powerful spear Fenghuang, command dragons, and defeat demons. But a conniving goddess was manipulating her all along . . . and her beloved younger brother, Alex, has betrayed her and taken over as the Heaven Breaker instead. Alex never forgave the people who treated him and Faryn like outcasts, and now he wants to wipe out both the demons and most of humanity.

Determined to prevent a war and bring Alex back to her side, Faryn and her half-dragon friend Ren join the New Order, a group of warriors based out of Manhattan's Chinatown. She learns that one weapon can stand against Fenghuang--the Ruyi Jingu Bang. Only problem? It belongs to an infamous trickster, the Monkey King.

Faryn sets off on a daring quest to convince the Monkey King to join forces with her, one that will take her to new places--including Diyu, otherwise known as the underworld--where she'll run into new dangers and more than one familiar face. Can she complete her mission and save the brother she loves, no matter the cost?

This richly woven middle-grade fantasy series, full of humor, magic, and heart, will appeal to readers who love Roshani Chokshi and Sayantani DasGupta.
About the Author
---
Katie Zhao is the author of The Dragon Warrior. She grew up in Michigan, where there was little for her to do besides bury her nose in a good book or a writing journal. She graduated from the University of Michigan with a BA in English and a minor in political science; she also completed her master's in accounting there. She wrote The Dragon Warrior during her last year of school, in between classes. In her spare time, Katie enjoys reading, singing, dancing (badly), and checking out new restaurants. She now lives in Brooklyn, New York.

www.katiezhao.com
@ktzhaoauthor
Praise For…
---
"A delightful adventure that melds classic Chinese mythology with original, contemporary folklore. The multilayered, high-energy, interwoven plots will keep fans guessing with the many twists, and the author's signature tongue-in-cheek, authentic teenage voice makes learning about Chinese mythology, language, and tradition highly enjoyable." —Booklist

"In this page-turning debut, Zhao weaves an exhilarating tale that shimmers with adventure, love, and loyalty. Readers will be enthralled up to the incredible and absolutely breathless end." —J.C. Cervantes, New York Times bestselling author of THE STORM RUNNER, on THE DRAGON WARRIOR

"Zhao seamlessly incorporates Chinese terms and themes into the fast-paced plot…. [T]he story takes intriguing twists with its cultural background." —Kirkus Reviews on THE DRAGON WARRIOR

"With engaging characters, a fast-paced plot, and a skillful blend of modern culture and ancient traditions, this series opener will appeal to fans of Percy Jackson and Aru Shah." —Publishers Weekly on THE DRAGON WARRIOR

"Dive into a world filled with terrifying demons, unique, engaging gods, and kick-butt warrior heroes who are destined to save the world. . . This book proves that girls and boys can both strong heroes. What an engaging and interesting book!" —Bookseller at The Well-Read Moose on THE DRAGON WARRIOR

"The Dragon Warrior is a book perfect for fans of mythology-based fiction!" —Avery Peregrine, Third Place Books, on THE DRAGON WARRIOR