Sharks Can't Smile!: And Other Amazing Facts (Ready-to-Read Level 2) (Super Facts for Super Kids) (Paperback)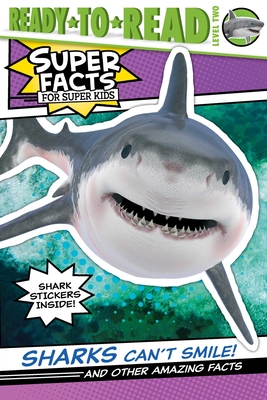 Description
---
Super Facts for Super Kids is a fun and fresh take on nonfiction for beginning readers. Filled with engaging photographs, comic-style illustrations, and cool infographics, this Level 2 Ready-to-Read series about animals is sure to flip, float, and fly off the shelves.

What are the most amazing facts about sharks? Whale Sharks can grow to be longer than a school bus, Greenland Sharks can live for up to 600 years, and some kinds of sharks can actually glow in the dark! Find out more super facts—like how sharks can't smile and don't have bones—in this book that presents information in a highly visual way for young readers. A backmatter section touches on ocean conservation and why sharks need to be protected.

This paperback edition comes with two sheets of fin-tastic shark stickers!
About the Author
---
Elizabeth Dennis grew up in Arizona, where she loved finding teeny, tiny, fairy-sized wildflowers in the desert and seeing double rainbows over the mountains. Nowadays, she lives in New York City and writes and edits books for children, and still loves flowers, nature, and double rainbows!

Lee Cosgrove is a children's illustrator from a small town on the banks of the River Mersey in England. A lifelong doodler, his love of drawing is inspired by a childhood of Saturday morning cartoons, den-building adventures, and an endless supply of crayons. Working as a full-time illustrator for the last ten years, Lee has enjoyed working on a wide range of projects from illustrating picture books, board games, and billboards. He loves to bring humor and lots of character to his illustrations. When he hasn't got a pencil in hand, he can be found fossil hunting, feeding hedgehogs, or doing flying kicks.