Tyrannosaurus Wrecks (FunJungle) (Hardcover)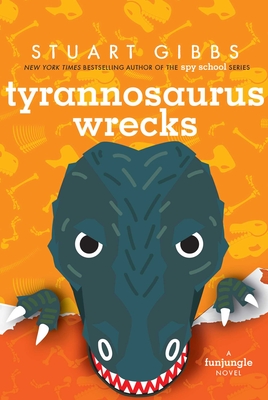 $17.99

Usually Ships in 1-5 Days
Description
---
In the latest novel in New York Times bestselling author Stuart Gibbs's FunJungle series, Teddy Fitzroy returns as FunJungle's resident sleuth to solve his most improbable mystery yet—with a victim that's 65 million years old.

Teddy was all set for a campout at his friend Sage's family ranch—but then Sage gets terrible news: The skull of a rare dinosaur that was being excavated on his property has mysteriously vanished overnight in the middle of a rainstorm, even though it weighed 500 pounds. Not a single footprint has been left behind. Since the dinosaur was top secret, the police don't believe anyone outside the dig could have stolen it.

A T-rex skull can sell for millions of dollars, and everyone is a suspect—including J.J. McCracken, the owner of FunJungle.

Meanwhile, Teddy's old foes, the Barksdale twins, have gotten into trouble with an illegally purchased anaconda, and Teddy's girlfriend Summer wants to find out who's behind the local trade in black market reptiles. The two cases will drag Teddy into more danger and chaos than ever before, in this mystery that's stranger than fiction.
About the Author
---
Stuart Gibbs is the New York Times bestselling author of the Charlie Thorne series, FunJungle series, Moon Base Alpha series, Once Upon a Tim series, and Spy School series. He has written screenplays, worked on a whole bunch of animated films, developed TV shows, been a newspaper columnist, and researched capybaras (the world's largest rodents). Stuart lives with his family in Los Angeles. You can learn more about what he's up to at StuartGibbs.com.