Frankie Sparks and the Class Pet (Frankie Sparks, Third-Grade Inventor #1) (Paperback)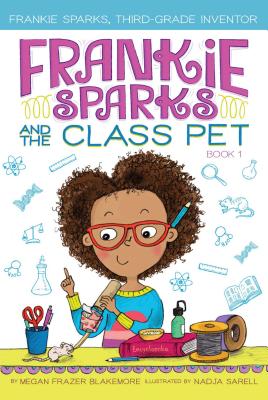 $6.99

Usually Ships in 1-5 Days
Other Books in Series
This is book number 1 in the Frankie Sparks, Third-Grade Inventor series.
Description
---
Ivy and Bean meets Aliens in my Pocket in this start to a brand-new chapter book series about Frankie Sparks, a third grader who uses her love for science and math to help her solve problems she comes across in her daily life.

The best thing EVER is happening in Frankie Sparks's third grade class: They are getting a class pet! Their teacher, Miss Cupid, tells them they will vote on their pet, but it has to meet some "parameters." Their pet must:

1. Fit in aquarium.
2. Cost less than $50.
3. Be easily portable.
4. Be able to be left alone for the weekend.

Frankie thinks that a rat—just like the rats in her beloved Aunt Gina's lab—would be the perfect fit. But her best friend, Maya, doesn't think a rat would be great at all. They are kind of gross and not as cool as a hermit crab, which is Maya's top choice. Using her special workshop, can Frankie find a way to convince her teacher and her best friend that Team Rat is the way to go?
About the Author
---
Megan Frazer Blakemore is an author for children and young adults. Her middle grade novels include The Firefly Code, The Daybreak Bond, The Friendship Riddle, The Spy Catchers of Maple Hill, and The Water Castle, the latter of which was named a Kirkus Reviews Best Children's Book of 2013, a Bank Street College Best Book 2014, a Junior Library Guild Selection, and has been included on numerous state lists. Her books for young adults are Good and Gone, Secrets of Truth & Beauty, and Very in Pieces, which was a Junior Library Guild selection. A school librarian, Megan has a BA from Columbia University, and an MLS from Simmons Graduate School of Library and Information Science. Megan is currently pursuing her doctorate in library science. She lives in Maine with her husband, two children, two cats, a leopard gecko, and (sometimes) a hive of bees.

Nadja Sarell is an illustrator living in Helsinki, Finland. She graduated with MA in dance from Theatre Academy Helsinki and graduated from North Wales School of Art and Design with BA in illustration for children's publishing in 2004. Since then she has worked as a freelance illustrator in Finland and abroad. She loves to teach art, illustration, and dance for both children and adults.
Praise For…
---
A Texas Bluebonnet Award Winner

"When her teacher announces that the class will be getting a pet, rodent lover Frankie Sparks knows exactly what it should be—she just needs to convince everyone else. Frankie's aunt is a rodentologist, so Frankie has a prime resource to help her determine which rodent would make a good class pet—because of course they will get a rodent…right? Frankie, who is more adept at math and inventing than at reading and writing, is nevertheless so excited that she does her research right away and is ready to present her arguments for getting a rat before anyone else. But her teacher insists that she respect the process. Frankie is disappointed, but things get worse when her best friend, Maya, tells her that she really doesn't want a rodent—in fact, she's scared of them. When Maya hits a stumbling block in her research, Frankie seizes the opportunity to pressure her into voting for a rat. With some advice from her mom, Frankie finally gets a grip and realizes that her friendship, complete with differences, is more important than a rat. As a chapter-book protagonist, Frankie is pleasingly well-developed, with a full range of emotions, strengths, and weaknesses. Frankie and her family are depicted as black, and other classmates are realistically diverse, conveyed in both text and Sarell's black-and-white illustrations. Endnotes explain "problem scoping" and encourage readers to invent. A pleasantly complex early school story. (Fiction. 6-11)" —Kirkus Reviews

"Gr 1-4–Frankie is a relatable and true-to-life third grader who is so enthusiastic about her school project she can barely contain herself. The class is getting a pet and they need to decide together what kind of animal is best. Frankie is sure that a rodent, specifically a rat, is the best choice. But Frankie will need to convince her teacher, the whole class, and, most importantly, her best friend Maya who thinks a betta fish would be better. Blakemore, in the tradition of Beverly Cleary, writes convincingly from the child's point of view. In this series debut, Frankie faces two problems. The first is the common social development conundrum of how to respond when your friend disagrees with you. The second is a practical problem for Frankie to solve: how can the class keep a rat as a pet when no one will be there to feed it over the weekends? Frankie's parents help her understand that it is okay for friends to have different opinions. Frankie uses scientific methodology to invent an effective solution to the rat-feeding problem. Sarell's simple illustrations, which depict Frankie as an African American girl, accentuate the book's realistic tone. VERDICT Perfect as a tie-in to STEAM curricula and for readers who enjoy Betty Birney's "Humphrey" series and Cleary's "Ramona." Highly recommended.–Tara Kehoe, Charlotte Mecklenburg Library, NC" —School Library Journal

"Frankie Sparks' and her third grade classmates are thrilled to learn they will soon have a class pet! Their teacher, Ms. Cupid, outlines the parameters for selecting the class pet, and requires that the students research pets to fit these expectations. Frankie eagerly steps up to the task, as she is already convinced that a pet rat will be the best choice. Not everyone agrees with Frankie though, including her best friend Maya. Maya is afraid of rodents, and is focused on her betta fish research. When Frankie's rat selection does not easily fit in the class pet parameters, Frankie gets to work in her inventing lab creating a prototype rat food dispenser to overcome one of the obstacles. Determination, problem solving, compromise, and empathy all come in to play as Frankie and her classmates head toward the final class vote. Frankie is a likable character, and readers will identify with her social, emotional, and academic conflicts that arise. New vocabulary presented in the book is expertly defined within the character's storyline. Illustrations support each chapter, and bring to life Frankie's friendships and scientific interests. This title would pair well with STEM/STEAM/STREAM curriculum, and supplemental pages at the conclusion even outline the design process for readers. Anne O. James, Librarian, Brownsville Elementary, Crozet, Virginia. Recommended" —School Library Connection