What the Dog Knows Young Readers Edition: Scent, Science, and the Amazing Ways Dogs Perceive the World (Paperback)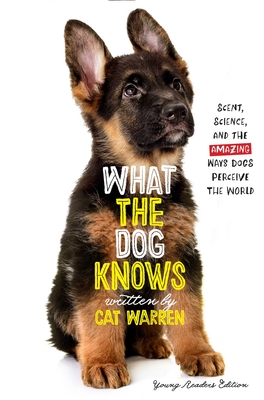 $7.99
Email or call for price.
Description
---
"Fun and engaging." —School Library Connection
"A fast, fascinating read that captures the strong bond between dog and owner." —School Library Journal

In this young readers edition of the New York Times bestseller, Cat Warren and her canine companion, Solo, teach readers that the nose knows no bounds when it comes to working together, being persistent, and helping others.

Solo has a fine nose and knows how to use it, but he's only one of many thousands of scent-detection dogs all over the United States. That's a group that includes cadaver dogs, tracking, trailing, and apprehension dogs; dogs that can locate unmarked graves of Civil War soldiers; and even dogs that can find drowning victims more than two hundred feet below the surface of a lake.

All these dogs love to use their noses. They think their job is simply the best, most interesting game they've ever played! What good working dogs can do may seem magical or mysterious, but What the Dog Knows shows the science, the rigorous training, and the skilled handling that underlie these amazing abilities.
About the Author
---
Cat Warren is a professor at North Carolina State University, where she teaches science journalism, editing, and creative nonfiction courses. Before starting her academic career, Warren worked for newspapers across the United States, reporting on crime, poverty, and politics, from California to Wyoming to Connecticut. Warren started training her young German shepherd, Solo, as a cadaver dog in 2004. She and Solo were called to search for the missing across North Carolina for a number of years. She lives in downtown Durham, North Carolina, with her husband, David Auerbach, a retired professor of philosophy at North Carolina State University, and their two German shepherds. Visit CatWarren.com.

Patricia J. Wynne is an artist, printmaker, and freelance scientific illustrator based in New York City. She works as a contract artist for scientists at research organizations around the world. Wynne has illustrated over 200 books for both adults and children, and her work has appeared in numerous publications, including The New York Times, The Wall Street Journal, Cricket, and Scientific American. Her books have received multiple awards, including a Theodore Seuss Geisel Honor for Hello, Bumblebee Bat (by Darrin Lunde). She studied printmaking at the University of Iowa and works at Robert Blackburn Printmaking Workshop in midtown New York City. Find out more at PatriciaWynne.com.
Praise For…
---
"What the Dog Knows offers a fascinating, fun glimpse into the world of dogs. If you've ever loved a dog, you will adore this book."
— Robert Crais, NYT bestselling mystery author of SUSPECT and THE WANTED

"Learn about the fascinating world of training working dogs to identify scents, rescue people, find explosives, and assist law enforcement."
— Temple Grandin, NYT bestselling author of ANIMALS IN TRANSLATION and ANIMALS MAKE US HUMAN

"What the Dog Knows is far more uplifting than any book featuring human cadavers, regular tick sightings, and travels through poison ivy has any right to be. Go find it!"
— Alexandra Horowitz, author of INSIDE OF A DOG YOUNG READERS EDITION: WHAT DOGS SEE, SMELL, AND KNOW

"I'd like to shake Solo's paw for inspiring this super-interesting, fun book about how four-legged heroes work."
— Maria Goodavage, NYT bestselling author of TOP DOG: THE STORY OF MARINE HERO LUCCA

"Beautifully illustrated, What the Dog Knows is perfect for young minds who will embrace the almost magical world of dogs and scent detection."
— Brian Hare and Vanessa Woods, NYT bestselling authors of THE GENIUS OF DOGS

"Cat Warren takes her readers on an exciting, fast-paced journey into the world of scents."
— Virginia Morell, NYT bestselling author of ANIMAL WISE: HOW WE KNOW ANIMALS THINK AND FEEL

"A smart, funny, haunting exploration of the ways that we train dogs—and the ways that dogs teach us, sometimes even more, in return."
— Deborah Blum, NYT bestselling author of THE POISONERS HANDBOOK and THE POISON SQUAD

"[Cat Warren] shows us how books can engage a reader's curiosity while illustrating the power of honesty and learning from one's mistakes. A brilliant addition to a Young Reader's library."
— Patricia B. McConnell, author of THE OTHER END OF THE LEASH

"A fresh and fascinating account of life living and working with a sniffer dog who is not only a great buddy, but can also find bodies buried in the woods. Equal parts detective story, animal adventure, and voyage of discovery."
— Clive Wynne, author of DOG IS LOVE: WHY AND HOW YOUR DOG LOVES YOU

"What the Dog Knows leads us into a world of scent beside some smart, amazing dogs and is a terrific mix of science, strategy, and mysteries it takes a canine to unravel. Join the adventure! You will look at the dogs in your own life differently, guaranteed."
— Susannah Charleson, NEW YORK TIMES bestselling author of SCENT OF THE MISSING and WHERE THE LOST DOGS GO

"What the Dog Knows leads us into a world of scent beside some smart, amazing dogs and is a terrific mix of science, strategy, and mysteries it takes a canine to unravel. Join the adventure! You will look at the dogs in your own life differently, guaranteed."
— Susannah Charleson, NEW YORK TIMES bestselling author of SCENT OF THE MISSING and WHERE THE LOST DOGS GO

"What the Dog Knows brings young dog lovers on a fascinating journey into the dog's nose and the surprising and wondrous places it leads. A vivid and engrossing book that young readers will surely remember into adulthood!"
— Julie Hecht, author of Dog Spies on Scientific American

"Middle-grade dog enthusiasts will love this fun and engaging title."
— School Library Connection