Corduroy Makes a Cake (Paperback)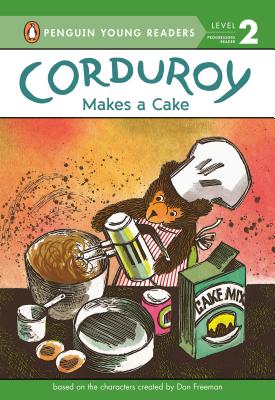 $3.99
Email or call for price.
Description
---
When Corduroy finds out that Lisa is having a birthday party, he decides to make her a very special cake. But instead of a cake, he makes a great big mess! Corduroy doesn't know what to do. Will he find another way to give Lisa a birthday surprise?
About the Author
---
Don Freeman (1908–1978) was the author and illustrator of many popular books for children, including Corduroy, A Pocket for Corduroy, and the Caldecott Honor Book Fly High, Fly Low. During his career as an artist, sketching impressions of Broadway shows for the New York Times and The Herald Tribune, he was introduced to the world of children's literature when William Saroyan asked him to illustrate several books. Soon after, he began to write and illustrate his own books, a career he settled into comfortably and happily. Through his writing, he was able to create his own theater: "I love the flow of turning the pages, the suspense of what's next. Ideas just come at me and after me. It's all so natural. I work all the time, long into the night, and it's such a pleasure. I don't know when the time ends. I've never been happier in my life!" He created many beloved characters in his lifetime, perhaps the most beloved among them a stuffed, overall-wearing bear named Corduroy.  

Alison Inches is the author of many Puffin Lift-the-Flap books and other books for children. She lives in Mill Valley, California.

Allan Eitzen grew up in the small town of Mountain Lake, Minnesota. He received an art education at Gustavus Adolphus College and the Institute of Art, both in Minneapolis, and at the University of the Arts in Philadelphia.Eitzen worked for a publishing house, an advertising agency, and an art therapy program before finally settling into a successful career illustrating magazines and books for children. He uses watercolors, pens, pencils, and cut paper to create wonderful images ranging from soft and soothing to bold and brilliant. When not busy working on his illustrations, Allan enjoys family travel and reading. He likes to relax by tending his small flock of sheep amid the woods, pond, and beautiful countryside in Pennsylvania where he and his wife raise their five children.