What Is the Story of Batman? (What Is the Story Of?) (Paperback)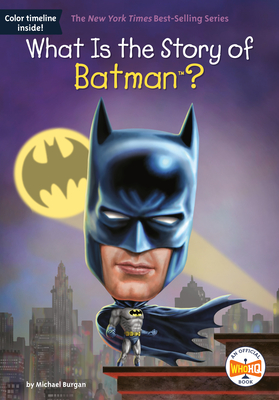 $7.99

Usually Ships in 1-5 Days
Description
---
Who HQ brings you the stories behind the most beloved characters of our time.

His aliases include the Caped Crusader, the Dark Knight, and World's Greatest Detective, but he's best known as Batman, and he's leaping from the night sky onto the page in this fun biography.

Bruce Wayne, a wealthy American philanthropist and business owner, and Batman, his crime-fighting alter ego, have been entertaining audiences since 1939. The character was so popular after appearing in Detective Comics that DC Comics decided to give Batman a comic book of his own. In doing so, they created one of the company's most successful franchises.

Author Michael Burgan details the history of Batman--from his tragic origin story and his infamous arch enemies--to his iconic depictions in television and movies throughout the years. This book shows readers why this superhero with no superpowers is so beloved around the world.
About the Author
---
Michael Burgan has written more than two dozen biographies for young readers, including Who Is Richard Branson?, Who Was Henry Ford?, Who Was H. J. Heinz?, and Who Was Theodore Roosevelt?