The Christmasaurus (Paperback)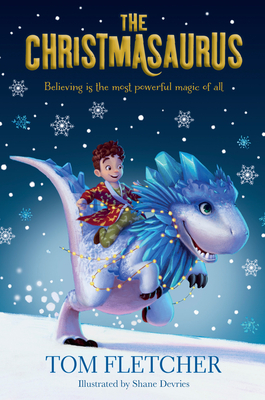 $8.99

Usually Ships in 1-5 Days
Description
---
Why settle for a pony or a puppy for Christmas when you could have a dinosaur? A rollicking adventure from singer-songwriter and YouTuber Tom Fletcher.

Once upon a time--long, long ago, when dinosaurs roamed the Earth--an egg rolled away from its mother and landed in the ocean, where it froze solid and stayed peacefully for thousands of years. Then one day Santa and his elves discover the frozen egg, and Santa sits on it to see if it will hatch. But he can't guess what's inside. . . . A dinosaur!

Meanwhile, a young boy named William Trundle has only ever wished for one thing for Christmas. Yup, you guess it! A dinosaur! So when Santa accidentally gives William the real Christmasaurus instead of a stuffed replica, it's the BEST CHRISTMAS EVER! Until an evil man known as the Hunter decides a dinosaur will be the perfect addition to his collection.

A wild and hilarious adventure ensues. An instant Christmas classic--now in paperback!
About the Author
---
Tom Fletcher was hatched from an egg discovered in the snowy depths of the North Pole. After writing songs with his band, McFly, for several years, Tom turned his hand to writing stories. His is the author of picture books There's a Monster in Your Book and There's a Dragon in Your Book. The Christmasuaurs is his first middle grade novel and combines his love of Christmas and his love of dinosaurs. He suggests you read it with a plate of cookies and hopes you enjoy it. Find him on Twitter and Instagram at @tomfletcher.
Praise For…
---
"Tom Fletcher is a creative and magical storyteller who is guaranteed to make readers laugh!" --James Patterson


"A sweet holiday story that would work well as a family read-aloud." --Booklist online

"Making his middle grade debut, songwriter Fletcher offers a goofy-humored fantasy about differences, friendship, and holiday magic." --Publishers Weekly