Far Away (Paperback)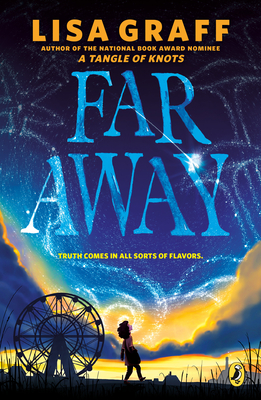 $8.99
Email or call for price.
Description
---
A book about life, loss, and the secrets families keep, reminiscent of Sharon Creech's Walk Two Moons, by National Book Award nominee Lisa Graff.

CJ's Aunt Nic is a psychic medium who tours the country speaking to spirits from Far Away, passing on messages from the dearly departed. And CJ knows firsthand how comforting those messages can be -- Aunt Nic's Gift is the only way CJ can talk to her mom, who died just hours after she was born.

So when CJ learns that she won't be able to speak to her mother anymore, even with Aunt Nic's help, she's determined to find a work-around. She sets off on road trip with her new friend Jax to locate the one object that she believes will tether her mother's spirit back to Earth . . . but what she finds along the way challenges every truth she's ever known. Ultimately, CJ has to sort out the reality from the lies.

National Book Award nominee Lisa Graff has written a poignant, heartfelt novel that explores the lengths we go to protect those we love -- and the power secrets have to change our worlds.

Praise for Far Away:

* "Graff nimbly crafts a credible novel from the unlikely, shaping layered characters and unforeseen plot twists while exploring issues of truth and illusion--and the emotion-infused miasma that separates the two. A genuinely moving and memorable story." --Publishers Weekly, *STARRED REVIEW*

"The story is a genre blend of mystery and realistic family drama . . . Graff never shies away from difficult topics, and this is as brave as expected." --Booklist
About the Author
---
Lisa Graff (lisagraff.com) is the critically acclaimed and award-winning author of The Great Treehouse War, A Clatter of Jars, Lost in the Sun, Absolutely Almost, A Tangle of Knots, Double Dog Dare, Sophie Simon Solves Them All, Umbrella Summer, The Life and Crimes of Bernetta Wallflower, and The Thing About Georgie. Lisa Graff's books have been named to more than sixty state award lists and have been touted as best books of the year by booksellers, teachers, and librarians. A Tangle of Knots was long-listed for the National Book Award in 2013. Lisa Graff lives with her family just outside of Philadelphia. Follow her on Twitter @LisaGraff.
Praise For…
---
Praise for Far Away:

* "Graff nimbly crafts a credible novel from the unlikely, shaping layered characters and unforeseen plot twists while exploring issues of truth and illusion—and the emotion-infused miasma that separates the two. A genuinely moving and memorable story." --Publishers Weekly, *STARRED REVIEW*

"The story is a genre blend of mystery and realistic family drama . . . Graff never shies away from difficult topics, and this is as brave as expected." --Booklist

"Graff imbues CJ's story with many valuable lessons about forgiveness, respect, and honoring a variety of perspectives. A compelling coming-of-age tale that delicately approaches the complex topics of psychic mediums and grief." --School Library Journal