Kingdom of the Blazing Phoenix (Rise of the Empress #2) (Paperback)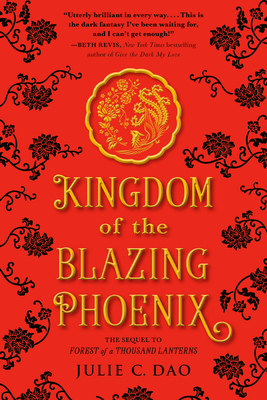 $10.99
Email or call for price.
Description
---
This fairy tale retelling lives in a mystical world inspired by the Far East, where the Dragon Lord and the Serpent God battle for control of the earthly realm; it is here that the flawed heroine of Forest of a Thousand Lanterns finally meets her match. An epic fantasy finale to that breathtaking and dazzling story.

Princess Jade has grown up in exile, hidden away in a monastery while her stepmother, the ruthless Xifeng, rules as Empress of Feng Lu. But the empire is in distress and its people are sinking into poverty and despair. Even though Jade doesn't want the crown, she knows she is the only one who can dethrone the Empress and set the world right. Ready to reclaim her place as rightful heir, Jade embarks on a quest to raise the Dragon Lords and defeat Xifeng and the Serpent God once and for all. But will the same darkness that took Xifeng take Jade, too? Or will she find the strength within to save herself, her friends, and her empire?

Set in an East Asian-inspired fantasy world filled with breathtaking pain and beauty, Kingdom of the Blazing Phoenix is filled with dazzling magic, powerful prose, and characters readers won't soon forget.

Fans of Stealing Snow, Red Queen, and The Wrath and the Dawn will hungrily devour this page-turning read.

Praise for Kingdom of the Blazing Phoenix:

"There aren't many authors who could so precisely undo their first book with their second, but it is this clever unweaving that shows Dao's brilliance and skill. With heart-stopping action and wonderful new characters, this is not a sequel to be missed." —EK Johnston, #1 New York Times bestselling author
 
"A lush, enchanting tale of magic, myth, and absolute courage. At once gorgeously woven and deliciously gruesome, Kingdom of the Blazing Phoenix is a thrilling end to a series that feels like a classic in its own right." —Natalie Mae, author of The Kinder Poison
 
"Kingdom of the Blazing Phoenix is the stunning counterpoint to Forest of a Thousand Lanterns. A refreshing take on the classic heroine, and an adventure of stories nestled within stories, this is a book fairytale lovers will tuck among their most beloved treasures." —Emily X.R. Pan, New York Times bestselling author of The Astonishing Color of After
 
"Kingdom of the Blazing Phoenix broke my heart and filled it, all at once. In the process, Julie C. Dao has turned a well-worn tale into something thrilling and new. Ornate, tender, and magical. I could not put this book down." —Tochi Onyebuchi, author of Beasts Made of Night and Crown of Thunder
 
"Beautifully written and masterfully told, Kingdom of the Blazing Phoenix feels at once timeless and entirely new . . . I loved it with my whole heart." —Margaret Rogerson, New York Times bestselling author of An Enchantment of Ravens
 
"Utterly brilliant in every way, Kingdom of the Blazing Phoenix is the perfect follow-up to Julie C. Dao's debut. This is the dark fantasy I've been waiting for, and I can't get enough!" —Beth Revis, New York Times bestselling author of Give the Dark My Love

"A grand adventure for fans of fairy tales, fables, and legends coupled with the vibrant history of Chinese dynasties."—Kirkus Reviews

* "A top purchase for most fantasy collections." --School Library Journal, starred review
About the Author
---
Julie Dao (www.juledao.com) is a proud Vietnamese American who was born in upstate New York. She studied medicine in college, but came to realize blood and needles were her Kryptonite. By day, she worked in science news and research; by night, she wrote books about heroines unafraid to fight for their dreams, which inspired her to follow her passion of becoming a published author. Her debut book was Forest of a Thousand Lanterns. Julie lives in New England. Follow her on Twitter @jules_writes.
Praise For…
---
Praise for Kingdom of the Blazing Phoenix:
  
"There aren't many authors who could so precisely undo their first book with their second, but it is this clever unweaving that shows Dao's brilliance and skill. With heart-stopping action and wonderful new characters, this is not a sequel to be missed." —EK Johnston, #1 New York Times bestselling author
 
"A lush, enchanting tale of magic, myth, and absolute courage. At once gorgeously woven and deliciously gruesome, Kingdom of the Blazing Phoenix is a thrilling end to a series that feels like a classic in its own right." —Natalie Mae, author of The Kinder Poison
 
"Kingdom of the Blazing Phoenix is the stunning counterpoint to Forest of a Thousand Lanterns. A refreshing take on the classic heroine, and an adventure of stories nestled within stories, this is a book fairytale lovers will tuck among their most beloved treasures." —Emily X.R. Pan, New York Times bestselling author of The Astonishing Color of After
 
"Kingdom of the Blazing Phoenix broke my heart and filled it, all at once. In the process, Julie C. Dao has turned a well-worn tale into something thrilling and new. Ornate, tender, and magical. I could not put this book down." —Tochi Onyebuchi, author of Beasts Made of Night and Crown of Thunder
 
"Beautifully written and masterfully told, Kingdom of the Blazing Phoenix feels at once timeless and entirely new—a cherished classic, destined to be savored for years to come. I loved it with my whole heart." —Margaret Rogerson, New York Times bestselling author of An Enchantment of Ravens
 
"Utterly brilliant in every way, Kingdom of the Blazing Phoenix is the perfect follow-up to Julie C. Dao's debut. This is the dark fantasy I've been waiting for, and I can't get enough!" —Beth Revis, New York Times bestselling author of Give the Dark My Love

"A grand adventure for fans of fairy tales, fables, and legends coupled with the vibrant history of Chinese dynasties."—Kirkus Reviews

* "A top purchase for most fantasy collections." --School Library Journal, starred review

"Dao's characters are complex and intriguing . . . Dao brings this richly embroidered saga to asatisfying close." --Booklist

Praise for Forest of a Thousand Lanterns:

A Junior Library Guild Selection

A New York Public Library - Best Book for Teens 2017

"A richly developed fantasy world coupled with an ambitious anti-heroine of complex agency, this story shines and surprises at every turn. Julie C. Dao is a talent to watch."—Marie Lu, #1 New York Times bestselling author of The Young Elites

★ "A masterful reimagining of the early life of Snow White's Evil Queen. Subverting the all-too-white world of fairy tales, this novel will trap readers in a lush, dangerously dark, and often beautiful world from which they will want no escape. Xifeng is . . . richly drawn, complicated, and, at times, vulnerable; her relentless pursuit of power a welcome contrast to princesses of the past who seldom had the confidence or strength to determine their own destinies."—Booklist, starred review

★ "Lushly written . . . The demons [Xifeng] faces are both literal and metaphorical, external and internal, and her tug-of-war with the forces driving her down a dark path makes for tantalizing reading. A fascinating examination of destiny, responsibility, and how choices shape a person."—Publishers Weekly, starred review

"Rich in detail and full of gore and blood, this dark novel will satisfy 'Game of Thrones' fans."—School Library Journal

"A stunning reimagining of the Evil Queen. Filled with treacherous courtesans, dark magic, terrible choices, and bloody hearts, Julie Dao's exquisite take on this classic villain rises far above the average retelling."—Stephanie Garber, New York Times bestselling author of Caraval
 
"Dark, lush, and intense, Forest of a Thousand Lanterns draws you into a world filled with mystery and intrigue, led by a heroine determined to grasp her destiny. A stunning debut!"—Cindy Pon, author of WANT and Serpentine

"An enchanting debut with a powerful and ambitious lead. Vivid and seductive, Forest of a Thousand Lanterns is one of the best debuts of the year."—Zoraida Córdova, award-winning author of Labyrinth Lost

"Forest of a Thousand Lanterns is dark and seductive; beware, this tale will draw you deeper into the forest than you want to go. Disturbingly good."—Stacey Lee, award-winning author of Outrun the Moon

"Magnetic, seductive, and alluring, Dao's Forest of a Thousand Lanterns is a lush, captivating read about desire and the lengths to which we will go to find our true destiny."—S. Jae-Jones, New York Times bestselling author of Wintersong

"Beautiful, lush, and stunningly intricate, Forest of a Thousand Lanterns is this year's must-read fantasy!"—Sandhya Menon, New York Times bestselling author of When Dimple Met Rishi

"Forest of a Thousand Lanterns is a stunning debut, a sort of inside-out fairy tale where beauty is a weapon, ambition is armor, and the empire is the battlefield. Xifeng doesn't ask for what she wants—she takes it. This book is dangerous; you should read it."—Jodi Meadows, New York Times bestselling coauthor of My Lady Jane

"Searing and intense, Dao's debut is an outstanding character exploration of fairytales' most enduring and enigmatic characters: the Evil Queen. Equal parts lush and devastating, this is a tale that will grab you by the throat."—Roshani Chokshi, New York Times bestselling author of The Star-Touched Queen 

"Julie C. Dao's Forest of a Thousand Lanterns is delicious, addicting, and breathtaking; a book you fall into from the first page to the last. Her rich world is thick with wonder, intrigue, and delightful darkness. Readers will root for Xifeng no matter the choices she must make; we want her to win."—Dhonielle Clayton, author of The Belles and the Tiny Pretty Things series

"Readers will appreciate the sweeping fantasy saga lifted from East Asian dynasties and endearing characters that are beautifully rendered."—Kirkus Reviews

"Readers will be drawn into the lush, fully realized world of Feng Lu and be intrigued by the sinister forces that awaken within and around Xifeng."—BCCB

"This captivating, enchanting YA fantasy revolves around an anti-hero's journey and is nearly impossible to set down."—Buzzfeed
 
"Julie C. Dao has created a dark, East Asian, fantasy fairy tale that will completely captivate you…a lush twist on the Evil Queen origin story from Snow White, and thankfully it's just book one of Dao's series."—Bustle 
 
"A beautiful teenager with a royal destiny is haunted by dark magic in this East Asian fairy tale, a debut novel that offers a rich retake on the origin story of Snow White's evil queen."—io9
 
"Julie C. Dao's lush debut Forest of a Thousand Lanterns is a dark fairy tale that explores the divide between fate and choice…magic, love, destiny and the lure of power all plays roles in Xifeng's journey, inspired by that of the evil queen in Snow White and buttressed by the detailed scene-building in ancient Asia."—The Austin American-Statesman
 
"A beautiful, lush, dark fantasy YA novel…breathing freely with a haunting Brothers Grimm severity and the magical mystery of J.K. Rowling's Harry Potter books."—SyFy 
 
"If you've ever read a story, watched a movie, or played a game where the protagonist struggles with their dark side and secretly rooted for them to give into evil's seductive call, Forest of a Thousand Lanterns is absolutely the novel for you."—Newsweek's Player One
 
"Fantasy (and Disney) fans rejoice! Forest of a Thousand Lanterns is an East-Asian reimagining of the Evil Queen from Snow White. It's filled with everything a dark fairy tale needs: deception, dark magic, and bloody hearts."—Hello Giggles 
 
"Listen up, fantasy addicts: Get ready to dive headfirst into a gorgeous, dark, and mysterious new world."—PureWow 
 
"Spellbinding…This novel is sure to be a hit with lovers of dark fairytales and anti-heroines."—Bookish
 
"This is a book filled with turmoil and drama that will leave you wanting more…with wonderfully descriptive writing and prose worthy of a movie, this is one book that you'll want to check out."—RT Book Reviews