Fenway and Hattie Up to New Tricks (Paperback)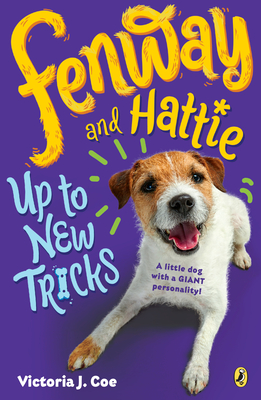 $7.99

Usually Ships in 1-5 Days
Other Books in Series
This is book number 3 in the Fenway and Hattie series.
Description
---
Fenway's favorite short human, Hattie, has a few tricks up her sleeves in this adorable and heartwarming paperback, perfect for fans of Humphrey and Og, the Frog.

Fenway has two jobs. He must love and care for his best friend and favorite short human, Hattie. And he must protect his human family, especially from the thieving chipmunks. The chipmunks strut around like they own the place but Fenway will not have it. He begins a daring chase to get rid of the pesky chipmunks, which lands him in a bush filled with bees. Poor, heroic Fenway suffers a paw injury but even worse, his humans will not let him lick the pain away! Instead, they take him to the Place of Fear and then Hattie doesn't even help him take off the Cone of Doom!

Fenway never would have expected Hattie to do these things to him. Doesn't she love him anymore? But even though his family is acting weird, Fenway is determined do whatever it takes to make them all happy again.
About the Author
---
Victoria J. Coe grew up in the seaside community of Duxbury, Massachusetts, and went on to live in New York and San Francisco, as well as large and small towns on both coasts. She now lives with her family on the outskirts of Boston, where she and her dog are always on the lookout for delivery trucks. And squirrels.
Praise For…
---
"Fenway, Hattie's exuberant Jack Russell terrier, is back for another (mis)adventure . . . . Fenway's narrative point of view is very, very doggy . . . . Those who have enjoyed Fenway's necessarily narrow doggy point of view will no doubt savor another outing." —Kirkus Reviews

"[A]long with amusing pictures of doggy life punctuated with the 'bum-sniffing circle dance' and other interactions with fellow canines, Fenway's takes on Hattie's developing relationship with new friends and her progress in learning to take responsibility for her actions provide a rich between-the-lines human plot." —Booklist

Look for all of the books in the series!
Fenway and Hattie
Fenway and Hattie and the Evil Bunny Gang
Fenway and Hattie Up to New Tricks
Fenway and Hattie In the Wild

And the Make Way for Fenway! illustrated chapter books for younger readers
Fenway and the Bone Thieves
Fenway and the Frisbee Trick
Fenway and the Loudmouth Bird
Fenway and the Great Escape