101 Extreme Survival Techniques for Fortniters: An Unofficial Guide to Fortnite Battle Royale (Master Combat) (Hardcover)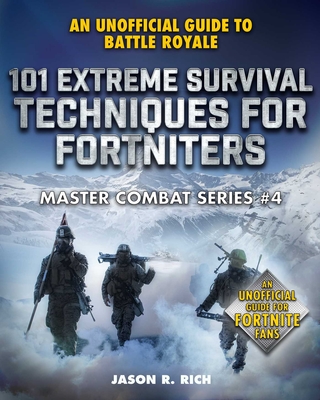 Description
---
Take control of your game and win at all cost with 101 Extreme Survival Techniques.

This all-new, unofficial, illustrated guide series will turn you into a master Fortnite: Battle Royale gamer by uncovering all the best strategies and secrets of this wildly popular game.  Whether you play Fortnite: Battle Royale on a PC, Mac, Xbox One, PlayStation 4, or your mobile device, you'll find everything you need to stay at the top of your game.

Each book is packed with useful insider tips on topics like, staying alive longer, exploring, collecting a powerful arsenal, building, and snagging more victories during each match. When it comes to achieving #1 Victory Royale, the Fortnite Battle Royale: Master Combat Series provides the ultimate competitive edge.

Whether you're a determined newb or a pro gamer, this unofficial, illustrated, how-to guide will give you the knowledge boost you need to take your Fortnite skills to the next level. Thanks to this comprehensive collection of over 100 insider tips and secrets, you'll be better equipped to launch ambushes, outsmart your adversaries, defeat more enemies, collect better loot, and gather the most powerful arsenal possible.

With detailed explanations and colorful action-packed screenshots, Master Combat: 101 Extreme Survival Techniques is designed to improve your fighting and survival skills during every Fortnite: Battle Royale match. Add these proven strategies to your arsenal of tricks and play like a #1 Victory Royale champion.

 
About the Author
---
Jason R. Rich (www.JasonRich.com) is an avid gamer and the author of more than two dozen full-length computer and video game strategy guides. He's also contributed thousands of game reviews and articles to national magazines and websites, and has worked as a consultant to some of the world's biggest computer and video game developers and publishers. He is also the author of the Fortnite Battle Royale Hacks series and the Unofficial Encyclopedias of Strategy for Fortniters series. Follow him on Twitter/Instagram (@JasonRich7).