Creepers: Pen Pals (Paperback)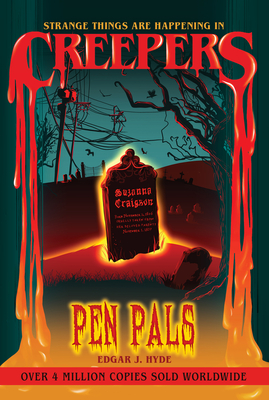 $5.99
Email or call for price.
Description
---
They say if you pass notes in class at this school, you might get in trouble with somebody other than the teacher. No matter what you write to your friend, what they end up reading is completely different.
Olivia and Natasha are the best of friends. From hanging out after school to passing notes in class, the two are practically inseparable. Until one day, one of Natasha's notes to Olivia is altered leading Olivia on a mysterious trek to the local cemetery. It is there that she meets a ghostly girl from the past who has an eerie warning for Olivia and her friend.
About the Creepers Horror Stories series: Strange things are happening in the Creepers series These high-interest, low-vocabulary middle grade illustrated chapter books are perfect for readers who love a good mix of spooky and silly. Featuring stories with tween protagonists who find themselves in paranormal predicaments, the Creepers series is set to capture the imaginations of young readers with thrilling tales of the strange things that keep us up at night.
About the Author
---
No one knows when Edgar was born. Some say he might be a Vampire, perhaps born hundreds of years ago. Others say he is ghost. Whatever he is he certainly knows a lot of ghost stories. While no one knows the date of his birth, Edgar was known to born in Scotland, to an ancient Celtic family, where story telling around the fireplace was a nightly occurrence. Many of these scary stories are retold by Edgar in his Creepers books. He has been publishing his stories since 1997 and is published in five languages on four continents. His books have been in print somewhere in the world for over 20 years. And, he has a lot more stories to tell!Chloe Tyler fell in love with art in high school and within a matter of months, it became her entire life. Drawing with charcoals, painting with oils and acrylics, doing portraits, murals, figure drawing, she threw herself into anything she could get her hands on. Chloe attended the University of Georgia and studied fine art and graphic design. It was here that Chloe learned how to take her art from the canvas to the screen. Digital art introduced Chloe to a whole new world of endless creative opportunities. She went on to find her artistic niche in-between the two worlds of digital and fine art. She graduated from college in 2019 with a BFA in fine arts and an emphasis in graphic design, and is now an artist living in Nashville, TN. Chloe is inspired most by color and music--both of which are in abundance in the city of Nashville. She is very excited to see what is in store for her artistic career. Chloe spends her free time painting in her tiny reading-nook-turned-studio in the corner of her room, as well as looking for other people's dogs to play with (at least until she can get her own).