Serafina and the Twisted Staff (The Serafina Series Book 2) (Paperback)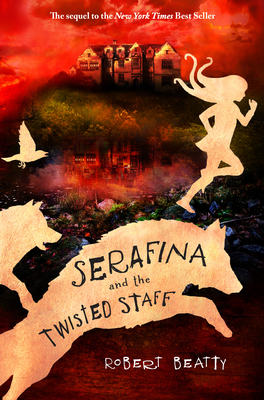 $7.99

Usually Ships in 1-5 Days
Other Books in Series
This is book number 2 in the Serafina series.
Description
---
A NEW YORK TIMES BEST-SELLING SERIES
"Beatty continues to build a fascinating magical world, the Blue Ridge Mountains and Biltmore Estate developing beyond mere settings into characters themselves. Each place reveals history and clues to Serafina's life and those of other gifted, mysterious beings. Even better than its predecessor, a sequel that delivers nonstop thrills from beginning to end."—Kirkus, starred review.
Serafina's defeat of the Man in the Black Cloak has brought her out of the shadows and into the daylight realm of her home, Biltmore Estate. Every night she visits her mother in the forest, eager to learn the ways of the catamount. But Serafina finds herself caught between her two worlds: she's too wild for Biltmore's beautifully dressed ladies and formal customs, and too human to fully join her kin.
When a mysterious series of attacks test Serafina's role as Biltmore's protector, she finds herself torn from the side of her best friend and only ally, Braeden Vanderbilt. Heartbroken, she flees.
Deep in the forest, Serafina comes face-to-face with the evil infecting Biltmore—and discovers its reach is far greater than she'd ever imagined. All the humans and creatures of the Blue Ridge Mountains are in terrible danger. For Serafina to defeat this new evil before it engulfs her beloved home, she must search deep inside herself and embrace the destiny that has always awaited her.
Read the whole series!
Serafina and the Black Cloak (book 1)
Serafina and the Twisted Staff (book 2)
Serafina and the Splintered Heart (book 3)
Serafina and the Seven Stars (book 4)
About the Author
---
Robert Beatty lives in the mountains of Asheville, North Carolina, with his wife and three daughters. He writes full-time now, but in his past lives he was one of the pioneers of cloud computing, the founder/CEO of Plex Systems, the co-founder of Beatty Robotics, and the CTO and chairman ofNarrativemagazine. Visit him online at www.robert-beatty.com.
Praise For…
---
"The characterization is solid, and the powerful imagery that made the first installment such a success is more consistent here. Readers who enjoyed the first novel will not be disappointed in this continuation and will anxiously await the next exciting adventure... Eerie gothic imagery, a ferociously scrappy heroine, and an elegant setting combine seamlessly to create a captivating mystery that will be well received by fans."—School Library Journal

*"Beatty continues to build a fascinating magical world, the Blue Ridge Mountains and Biltmore Estate developing beyond mere settings into characters themselves. Each place reveals history and clues to Serafina's life and those of other gifted, mysterious beings. Even better than its predecessor, a sequel that delivers nonstop thrills from beginning to end."—Kirkus, starred review

PRAISE FOR SERAFINA AND THE BLACK CLOAK

"An entrancing historical, mystery thriller, Beatty tells the story through Serafina's searching and inner dialogue. A finely detailed setting, strong characterization, rich foreshadowing, and haunting imagery, all work to build suspense throughout."—SLC

PRAISE FOR SERAFINA AND THE BLACK CLOAK

"Beatty spins an enchanting mystery through lonely Serafina's golden eyes... Each new clue adds another brush stroke to this keenly perceptive portrait of a young girl searching for answers about herself and the world around her. The book leaves readers satisfied with the plot but hungry for more about its unusual heroine. Adults and children will eagerly follow Serafina from the basement into a world of self-discovery, justice, and new friendships."—Kirkus

PRAISE FOR SERAFINA AND THE BLACK CLOAK

"Serafina narrates with an engaging voice that draws the reader into her world. The setting is just as engaging: the Biltmore drips with opulence and the surrounding forest with sufficient eeriness... Serafina has enough mystery and fantasy (with a fair amount of creepiness) to satisfy young readers."—Historical Novel Society

PRAISE FOR SERAFINA AND THE BLACK CLOAK

"Serafina's quest to understand herself and her unknown family history, along with some truly creepy moments and imagery... makes for an eerie historical mystery."—Publishers Weekly

PRAISE FOR SERAFINA AND THE BLACK CLOAK

"The chills and adventure will... surely please."—Booklist

PRAISE FOR SERAFINA AND THE BLACK CLOAK

"The story drips with suspense, wrapping readers in to the narrative just as easily as the man in the black cloak binds his young victims. Serafina's friendship with Braeden is heartfelt and believable... mystery fans will enjoy this book... A creepy, suspenseful read."—School Library Journal

PRAISE FOR SERAFINA AND THE BLACK CLOAK

"The vast estate with a haunted past and a creepy present makes for an atmospheric setting, and Serafina's multiple narrow escapes from her enemy are absolutely thrilling. Serafina herself is an enchanting heroine, brave and determined, and her attraction to the dark forest adds another layer of suspense and mystery."—BCCB