The Class (Paperback)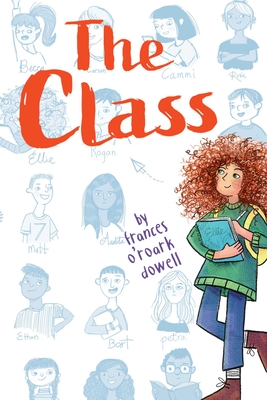 Description
---
"A complex, thought-provoking, and entertaining view of middle school." —Publishers Weekly

Twenty kids. Twenty points of view. One rambunctious, brilliantly conceived novel that corrals the seeming chaos (c'mon, TWENTY points of view!) into one effervescent story.

Sixth grade is a MOST confusing time. Best friends aren't friends anymore. Worst enemies suddenly want to be partners in crime. And classmates you thought you knew have all sorts of surprising stuff going on. The kids in Mrs. Herrera's class are dealing with all this and more—specifically:

1. There's a new girl who just seems to be spying on them all and scribbling things in a notebook. Maybe she IS a spy?
2. Someone is stealing Mrs. Herrera's most treasured items.
3. Their old classmate, Sam, keeps showing up and no one knows why…until they do.

Which leads to a fourth problem. But we can't tell you about that yet. The twenty kids in Mrs. Herrera's classroom can, though, and they do.

Every. Single. One. Of. Them.
About the Author
---
Frances O'Roark Dowell is the bestselling and critically acclaimed author of Dovey Coe, which won the Edgar Award and the William Allen White Award; Where I'd Like to Be; The Secret Language of Girls and its sequels The Kind of Friends We Used to Be and The Sound of Your Voice, Only Really Far Away; Chicken Boy; Shooting the Moon, which was awarded the Christopher Award; the Phineas L. MacGuire series; Falling In; The Second Life of Abigail Walker, which received three starred reviews; Anybody Shining; Ten Miles Past Normal; Trouble the Water; the Sam the Man series; The Class; How to Build a Story; and most recently, Hazard. She lives with her family in Durham, North Carolina. Connect with Frances online at FrancesDowell.com.