Going Viral (The Potion Diaries) (Paperback)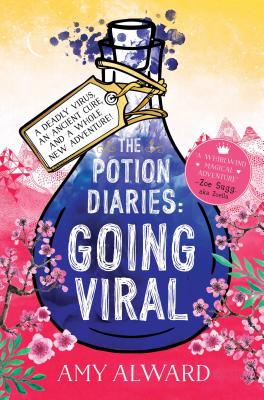 $11.99
Email or call for price.
Description
---
There's trouble in Nova and the citizens of the kingdom must once again put their faith in Samantha Kemi to save the day in the final novel of the "charming and humorous" (Kirkus Reviews) Potion Diaries series.

After the royal tour, Samantha Kemi thought she could take a break from saving the day. Her grandfather Ostanes is healthy, she's about to be named a Master Alchemist, and Princess Evelyn is happily married to Prince Stefan.

Except—Sam has no proof that Evelyn is happily married because she hasn't seen the princess in days…Prince Stefan is now the public face of the Royal family.

Princess Evelyn has gone MIA just when Nova (and Sam) needs her most. A surge of magic is spreading across the country—like a virus—and every Talented person is suddenly more powerful. With the Talenteds getting stronger, Ordinary people begin to worry about an imbalance in the magic streams—and in society. When a group of Talented kids—Sam's sister Molly among them—are attacked with a powerful sleeping potion, Prince Stefan is convinced that the Ordinary people are taking a radical stand against Talenteds and reinstates the old ban on traditional alchemy.

Now Sam's hands are tied. Does she trust Nova's scientists to find a synthetic cure to this curse, or does she break Stefan's royal decree and use her skills to save her little sister—and possibly all of Nova—from a forever sleep?
About the Author
---
Amy Alward is a Canadian author living in London who fits writing in around her work as editorial director for one of the UK's leading children's publishers. The Oathbreaker's Shadow and The Shadow's Curse are her first two books, published under her maiden name, Amy McCulloch. She lives life in a continual search for adventure, coffee, and really great books. Visit her at AmyAlward.co.uk or on Twitter @Amy_Alward.