My Diary from the Edge of the World (Paperback)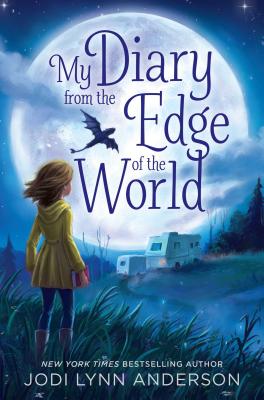 $9.99
Email or call for price.
Description
---
Told in diary form by an irresistible heroine, this "heartfelt, bittersweet, and ever-so-clever coming-of-age fantasy" (School Library Journal, starred review) named one of Publishers Weekly's Best Books of the Year from the New York Times bestselling author of the May Bird trilogy sparkles with science, myth, magic, and the strange beauty of the everyday marvels we sometimes forget to notice.

Spirited, restless Gracie Lockwood has lived in Cliffden, Maine, her whole life. She's a typical girl in an atypical world: one where sasquatches helped to win the Civil War, where dragons glide over Route 1 on their way south for the winter (sometimes burning down a T.J. Maxx or an Applebee's along the way), where giants hide in caves near LA and mermaids hunt along the beaches, and where Dark Clouds come for people when they die.

To Gracie it's all pretty ho-hum…until a Cloud comes looking for her little brother Sam, turning her small-town life upside down. Determined to protect Sam against all odds, her parents pack the family into a used Winnebago and set out on an epic search for a safe place that most people say doesn't exist: The Extraordinary World. It's rumored to lie at the ends of the earth, and no one has ever made it there and lived to tell the tale. To reach it, the Lockwoods will have to learn to believe in each other—and to trust that the world holds more possibilities than they've ever imagined.
About the Author
---
Jodi Lynn Anderson is the bestselling author of several critically acclaimed books for young people, including the May Bird trilogy, the Thirteen Witches series, and My Diary from the Edge of the World. She lives with her husband, son, and daughter in Asheville, North Carolina, and holds an MFA in writing and literature from Bennington College.
Praise For…
---
* Gracie Lockwood is a spirited girl and journal writer, who lives with her parents, brother, and sister right down the street from a T.J. Maxx that was recently burned down by dragons. Her world mirrors ours, in that there is a Wendy's, Taco Bell, and MacDonald's off of Route 1. It differs, however, because Sasquatches roam the forests, depressed ghosts linger, and for a pretty penny, one can hire a guardian angel should one require protection. Perhaps the most ominous thing about her world is the fact that dark clouds visit the homes of anyone whose life they're about to take. When such a cloud appears over Gracie's home, the family believes it has come for her ailing younger brother, Sam. Their one chance at outrunning his death is crossing over into, "The Extraordinary World." Her father, a somewhat unreliable scientist believes that a parallel universe exists, one in which humans thrive without the death clouds and other dangers found in their own world. When the Lockwoods purchase a Winnebago to flee their town in pursuit of "The Extraordinary World," readers are taken on a fun-filled, well-paced, modern adventure. VERDICT Fans of J.K. Rowling's "Harry Potter" will enjoy this heartfelt, bittersweet, and ever-so-clever coming-of-age fantasy. It is a must-add to any middle grade collection.
— School Library Journal STARRED REVIEW

"Fans of J.K. Rowling's "Harry Potter" will enjoy this heartfelt, bittersweet, and ever-so-clever coming-of-age fantasy. It is a must-add to any middle grade collection."
— School Library Journal STARRED REVIEW