The Fowl Twins Deny All Charges: The Fowl Twins, Book 2 (Large Print / Library Binding)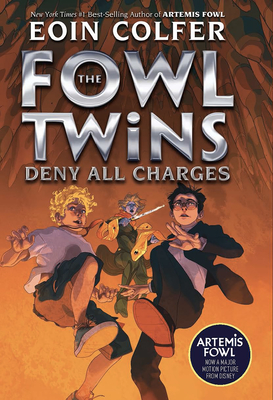 $22.99

Usually Ships in 1-5 Days
Description
---
The second Fowl Twins adventure, a spinoff of the blockbuster Artemis Fowl series, starts with a bang--literally.
Artemis's little brothers Myles and Beckett borrow the Fowl jet without permission, and it ends up as a fireball over Florida. The twins plus their fairy minder, the pixie-elf hybrid Lazuli Heitz, are lucky to escape with their lives.
The Fowl parents and fairy police force decide that enough is enough and the twins are placed under house arrest. But Myles has questions like: Who was tracking the Fowl jet? Why would someone want to blow them out of the sky? What is the bigger picture? These questions must infuriate someone, because Myles is abducted and spirited away from his twin.
Beckett and Lazuli must collaborate to find Myles and rescue him. Their chase will take them across continents, deep underground, and into subacquatic super villain lairs. They will be shot at, covered in spit, and be at the receiving end of some quite nasty dwarf sarcasm.
Will Beckett be able to come up with a genius plan without a genius on hand?
About the Author
---
Eoin Colfer is the author of the New York Times best-selling Artemis Fowl series, which was adapted into a major motion picture from the Walt Disney Studios, and two Fowl Twins spin-off books. He also wrote the critically acclaimed WARP trilogy, and many other titles for young readers and adults, including Highfire, Iron Man: The Gauntlet, Airman, Half Moon Investigations, Eoin Colfer's Legend of . . . books, The Wish List, Benny and Omar; and Benny and Babe. In 2014, he was named Ireland's laureate for children's literature. He lives with his wife and two sons in Dublin, Ireland. To learn more, visit www.eoincolfer.com. He is also on Twitter and Instagram @EoinColfer.