Peace, Locomotion (MP3 CD)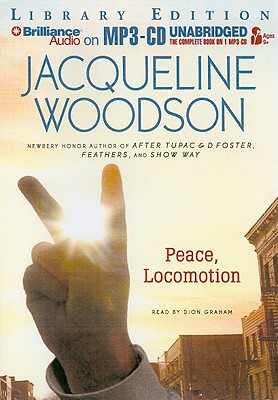 $39.97
Email or call for price.
Description
---
Grade 4-6; Age 9-11 Twelve-year-old Lonnie is finally starting to feel at home with his foster family. But he still lives apart from his little sister, Lili, so he decides it's his job to be the rememberer and write down everything that happens while they re growing up. Lonnie's reflections in his letters to Lili are bittersweet. He's happy that they both have good foster families, but while his new family brings him joy, it also brings new worries: With a foster brother in the army, concepts like Peace have new meaning for Lonnie. Told solely through letters from Lonnie to Lili, this thought-provoking companion to Jacqueline Woodson's National Book Award Finalist Locomotion tackles important issues in captivating, lyrical language. Lonnie's reflections on family, loss, love and peace will strike a note with readers of all ages.