The Monster Detector (Big Foot and Little Foot #2) (Hardcover)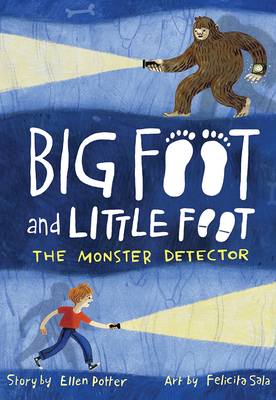 $12.99

Usually Ships in 1-5 Days
Other Books in Series
This is book number 2 in the Big Foot and Little Foot series.
Description
---
Hugo is a young Sasquatch. Boone is a young boy. After an unlikely encounter, they've become an even unlikelier pair of best friends. After saving up his Monster Card wrappers, Hugo sends away for a special prize in the mail—a Monster Detector! Using the watchlike device, Hugo quickly spots a monster right in his own cavern. Spooked, but still excited about his prize, Hugo heads to school and finds yet another surprise—his friend Boone! Boone announces he wants to go to Sasquatch school, but no human has ever gone before, and not everyone is as happy about it as Hugo. Boone's first day of school gets off to a rocky start, but Hugo doesn't have much time to worry before he makes another monster sighting and takes off after the creature. What follows are even more surprises, ones that have Hugo rethinking what it really means to be a "monster."

About the Author
---
Ellen Potter is the award-winning author of many books for children, including the Olivia Kidney series, Slob, The Kneebone Boy, and the Piper Green series. She lives in upstate New York.

Felicita Sala is a self-taught illustrator. She has illustrated several picture books, including the award-winning She Made a Monster: How Mary Shelley Created Frankenstein by Lynn Fulton, and The Hideout by Susanna Mattiangeli, as well as her own book of recipes for children, What's Cooking at 10 Garden Street? She grew up between Italy and Australia and now lives in Rome with her family.
Praise For…
---
"Sasquatch Hugo and human Boone deal with monsters, stereotypes, and cultural misunderstandings in the follow-up to Big Foot and Little Foot (2018). . . The sasquatch humor and heroes' earnestness make for a compelling story with natural flow, and the turnabout scenarios in which white Boone operates as a minority among the sasquatches are thoughtfully done. A lovely story of using empathy to work through culture clashes."

— Kirkus Reviews

"This satisfying sequel is as relatable as the first, touching on childhood obsessions, worries, and thrills. A fun romp with valuable lessons in friendship and forgiveness."
— Booklist

"Potter has once again penned a winner with this sequel to Big Foot and Little Foot. She includes just the right amount of adventure and excitement to keep children engaged and wanting to know what happens next. Her characters are believable and enchanting. The illustrations are simple but illuminating. VERDICT A successful installment in a delightful series about friendship and embracing differences in others."
— School Library Journal