Zatanna and the House of Secrets (Paperback)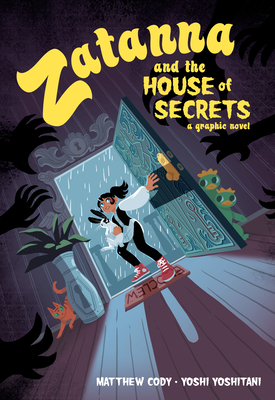 $9.99

Usually Ships in 1-5 Days
Description
---
Welcome to the magical, mystical, topsy-turvy world of the House of Secrets, where Zatanna embarks on a journey of self-discovery and adventure ... all with her pet rabbit, Pocus, at her side

Zatanna and her stage magician father live in a special house, the House of Secrets, which is full of magic, puzzles, mysterious doors, and storybook creatures--it's the house everyone in the neighborhood talks about but avoids.

At school one day, Zatanna stands up to a bully and everything changes--including her friends. Suddenly, Zatanna isn't so sure about her place in the world, and when she returns home to tell her father, he's gone missing, lost within their own home.

With thrilling twists from writer Matthew Cody and dazzling artwork by Yoshi Yoshitani, Zatanna and the House of Secrets will delight readers at the turn of every page--and the opening of every door!
About the Author
---
Matthew Cody is the acclaimed children's author of several popular books including the award-winning Supers of Noble's Green trilogy: Powerless, Super, and Villainous. He was born and raised just outside of St. Louis, Missouri, where he spent most of his childhood reading comics and running around dressed up as his ideal version of Superman. He currently lives in Manhattan with his wife and son.

Yoshi Yoshitani has always been inspired by cultures, histories, mythologies, and patterns from around the world. She uses this inspiration to fuel her concepts and illustrations. She currently lives in California.