The Fowl Twins Deny All Charges (A Fowl Twins Novel, Book 2) (Artemis Fowl) (Hardcover)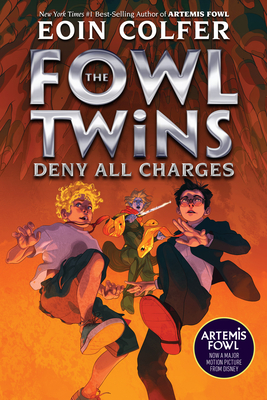 $18.99

Usually Ships in 1-5 Days
Description
---
The second Fowl Twins adventure, a spinoff of the blockbuster Artemis Fowl series, starts with a bang--literally.

*"Like its bestselling progenitors, a nonstop spinoff afroth with high tech, spectacular magic, and silly business."--
Kirkus Reviews
(starred review)
Artemis's little brothers Myles and Beckett borrow the Fowl jet without permission, and it ends up as a fireball over Florida. The twins plus their fairy minder, the pixie-elf hybrid Lazuli Heitz, are lucky to escape with their lives.
The Fowl parents and fairy police force decide that enough is enough and the twins are placed under house arrest. But Myles has questions like: Who was tracking the Fowl jet? Why would someone want to blow them out of the sky? What is the bigger picture? These questions must infuriate someone, because Myles is abducted and spirited away from his twin.
Beckett and Lazuli must collaborate to find Myles and rescue him. Their chase will take them across continents, deep underground, and into subacquatic super villain lairs. They will be shot at, covered in spit, and be at the receiving end of some quite nasty dwarf sarcasm.
Will Beckett be able to come up with a genius plan without a genius on hand?
With the Fowl Twins, master storyteller Eoin Colfer delivers everything that made millions of readers around the globe fall in love with the Artemis Fowl books.
Don't miss the Artemis Fowl movie, now streaming on Disney+!

Complete your middle grade fantasy collection with these best-selling fan favorites:
Artemis Fowl by Eoin Colfer
The Fowl Twins by Eoin Colfer
The Fowl Twins Get What They Deserve by Eoin Colfer
Airman by Eoin Colfer
The Percy Jackson and the Olympians series by Rick Riordan
Rick Riordan Presents City of the Plague God by Sarwat Chadda
About the Author
---
Eoin Colfer is the author of the New York Times best-selling Artemis Fowl series, which was adapted into a major motion picture from the Walt Disney Studios, and two Fowl Twins spin-off books. He also wrote the critically acclaimed WARP trilogy, and many other titles for young readers and adults, including Highfire, Iron Man: The Gauntlet, Airman, Half Moon Investigations, Eoin Colfer's Legend of . . . books, The Wish List, Benny and Omar; and Benny and Babe. In 2014, he was named Ireland's laureate for children's literature. He lives with his wife and two sons in Dublin, Ireland. To learn more, visit www.eoincolfer.com. He is also on Twitter and Instagram @EoinColfer.


Praise For…
---
"Colfer . . . strings dazzling displays of high tech, heartwarming peeks at the family dynamics of the closely knit if decidedly eccentric Fowl clan, dolphin-back rides, huge blobs of slime (some of it explosive), and a climactic exhibition of prejudice gone off the rails. More high octane Fowl play."—Kirkus Reviews

"Colfer's clever spin-off of the Artemis Fowl series focuses on Artemis Fowl's twin younger brothers-hyperintelligent Myles and near-feral Beckett, both 11. Colfer's trademark tongue-in-cheek narrative voice is on full display, his characters existing in a preposterous balance between sincerity and absurdity, mad science, and technology. Tthis series opener is accessible and entertaining: the fast-paced plot, filled with unexpected betrayals, death-defying feats, and secret train cars, will appeal to Fowl readers established and new."—Publishers Weekly (starred review)

"Like its bestselling progenitors, a nonstop spinoff afroth with high tech, spectacular magic, and silly business."—Kirkus (starred review)

"Make way for a new generation of Fowl adventures and fans."—Booklist

"Fans of the Artemis Fowl novels will not be disappointed with this first novel of the spinoff series. Colfer's razor sharp wit and fast-paced writing will keep readers engaged, entertained and grinning at the puns. High tech spy gadgets blend sci-fi elements to this fantasy novel."—School Library Connection