The Camelot Code: Geeks and the Holy Grail (Paperback)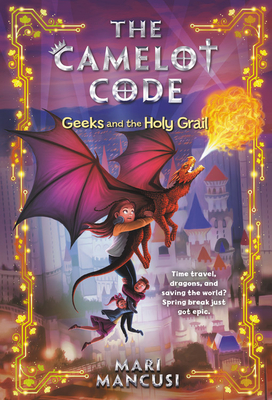 $7.99
Email or call for price.
Other Books in Series
This is book number 2 in the The Camelot Code series.
Description
---
Sophie must embark on her first official mission as a companion in the action-packed sequel to The Camelot Code!
In the second book in the Camelot Code series, Sophie is now tasked with protecting the spirit of King Arthur throughout the ages, so it's no surprise when she and Stu get sucked in to another Arthurian adventure: get the Holy Grail into King Arthur's hands so he can drink from it and recover from a deadly illness.

It's not easy, especially since Merlin's apprentice, Emrys, has accidentally turned the Grail into a gassy, fire-breathing baby dragon. And Merlin is the only one who can change it back. But Merlin's on spring break in modern-day Las Vegas (at the Excalibur, of course). And Sophie's super-popular (not to mention super-annoying) future stepsister, Ashley, has invited herself along for the ride.
From sneaking a baby dragon through airport security to the ultimate showdown with the sorceress Morgana, deep in the land of Faerie, this new Camelot Code adventure will test not only the two geeks' courage, but also their very friendship. Spring break just got epic!
About the Author
---
Mari Mancusi always wanted a dragon as a pet. Unfortunately, the fire insurance premiums proved a bit too large and her house a bit too small, so she chose to write about them instead. As a former Emmy Award-winning TV news producer, she now works as a full-time author, having published more than two dozen books for kids, teens, and adults. When not writing, Mari enjoys traveling, cosplay, watching cheesy (and scary) horror movies, and playing video games. A graduate of Boston University, she lives in Austin, Texas, with her husband, Jacob, daughter, Avalon, and their two dogs. Visit her at marimancusi.com or follow her @marimancusi.
Praise For…
---
Praise for The Once and Future Geek:
"A highly imaginative twist on the legend of King Arthur, complete with time travel, programming, and fierce friendships, the Camelot Code is the perfect pick for tweens who love medieval lore and geek culture in equal measure!"—Christina Soontornvat, author of The Changelings series

"Arthurian legends just leveled up in this hilariously geeky, modern, and clever take on The Sword in the Stone. A Connecticut Yankee in King Arthur's Court meets Ready Player One for the middle-grade set."—Julie Leung, author of The Mice of the Round Table series

"Boys and girls will ditch their video games and be sucked into the delightful world of (future) King Arthur and his unlikely saviors, Sophie and Stu. An absolute delight!"—Jen Calonita, author of the Fairy Tale Reform School series

"Imagine The Sword in the Stone with a dash of Freaky Friday and a pinch of World of Warcraft--this funny, fast-paced adventure is chicken soup for the geek's soul."—Zack Clark and Nick Eliopulos, authors of The Adventurers Guild series

"A wholesome, modern twist on the classic legend that could provide a gateway for newer readers and fun for the gaming set."—Kirkus Reviews

"Cinematic and epic in scale. . . . A delightfully unexpected amount of detail from Arthurian lore. . . . Fast-paced, downright fun novel."—Booklist

"Dashes of romance, bullying, social anxiety, family stresses, commentary on middle school social structure, and bits of history and Arthurian lore all combine to create a though-provoking adventure story. . . . Blending elements of several genres, this story will be appealing to many different types of readers."
—School Library Journal

"Impeccably incorporates contemporary and video-game elements into the original King Arthur story, creating an enjoyable and seamless narrative."—Publishers Weekly